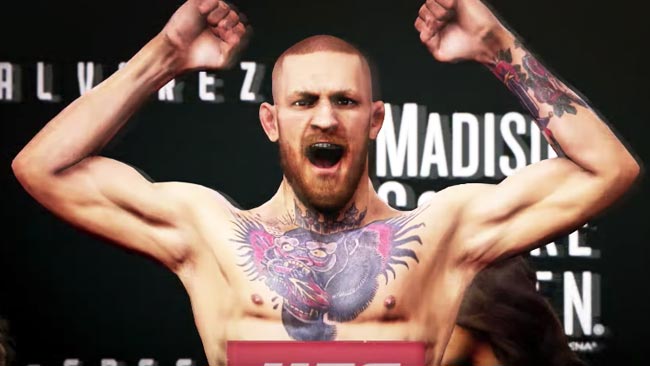 Usually, it's a leap in hardware generations that produces a sports gaming experience that propels forward expectations of what's possible. Madden 2001's first appearance on the PS2, comes to mind. Or Fight Night 2004. EA UFC 3's completely revamped striking system, deep into a console cycle, is one of those tectonic shifts. With it, EA's latest MMA game enters the GOAT conversation.
The history of MMA games has been full of side steps and start-overs. It finally feels like we're ready to move forward, with the cumulative of THQ's three games, EA MMA, the Fight Night series and EA's previous two UFC entries leading up to the release of EA UFC 3. We're finally almost there, the next level.
In the cage, UFC 3 does almost everything right. No game has ever captured the likenesses or intricacies of the sport better. In UFC 3, Carlos Condit isn't just a "striker" with Carlos Condit moves and skin — the posture, logic, and in-Octagon tendencies of fighters are a huge jump forward for combat sports game AI and user control. It's going to be hard to go back. Now everything else is just Rock 'Em Sock 'Em Robots.
The change in combat comes from EA's Real Motion technology, which has already been seen in Madden and a few other games at this point, but seems truly in the spotlight here. In Madden, you can appreciate RPM when it comes to the tackling animations and the more realistic holes it generates in the running game, but that feels like a zoomed out view of the tech. With two fighters in the cage, its changes to how a gamer approaches a fight at a molecular level.

Admittedly, at first, I hated UFC 3's combat. I played the beta extensively, and a dedicated UFC 2 player, I thought it felt less precise and it was too easy to get knocked out. EA UFC 2 felt like a fighting video game, this felt like an overly-authentic simulation. Something that was too complex and masochistic in its willingness to allow a user to make mistakes which would leave them unconscious. Yeah, it was cool to feel Nate Diaz's flicking jabs, and the footwork looked like it was designed by Dominick Cruz's programmer doppelganger, but I was sick of losing.
After spending quite a bit more time with the game, I've become a true believer. The number of maneuvers you can make with such relatively smooth and simple controls are a fresh, new normal, but they do take patience to learn. Fighting along the cage feels better and more dynamic than ever before, and in general, the game feels way more strategic.
The combat isn't 100 percent remade, however. If you've played previous EA UFC titles, the ground game is still pretty much the same, which is take it or leave it depending on the gamer.
The big feature hook in UFC 3 is the new, deeper GOAT career mode. It's a deep, fun experience that embodies the current culture of fight hype and social media that lets you balance a fighter's life. Train, or promote your fight? Go into a fight injured on the eve of a new contract, or heal up and play it safe? It's all very engrossing, especially early in your career when money is tight. As your story goes on and your skills are maxed (they really should decay), it becomes a rush to promote yourself and keep winning, but for the most part, it's a novel look at micromanaging your training and your public persona.
Unlike most MMA games (and the previous high water mark in THQ's UFC 3), fighters age and gain a new win-loss record, which seems like an obvious thing to have, but for the most part, that part of reality has been missing in the lexicon. The path to GOATdom can become a bit of a grind at times, and a camp simulation shortcut would be welcome for people who want to go through many careers multiple times, but traveling from the indies or potentially to the Ultimate Fighter house or getting recruited by Dana White's Lookin' for a Fight is a joy. Talking trash to your opponent, jumping weight and making training decisions leads to a thoughtful career. At one point, I dropped four in a row — all to submission. I changed camps, trained my ass off on the mat, and filled the holes in my skills. It was deeply satisfying.

The main thing the career mode lacks is a sense of history. MMA is a sport in which you may see your favorite athlete perform, 25-30 times if you're lucky over the course of years. It's a sport full of nostalgia, replays, and nonsensical, hypothetical mathematical equations about who would beat who. In the career mode, you can't even look back at your record and who you've fought before. It's almost ironic. The game commentary gives insight on how you're rematching an old foe, but there isn't even a graphic that tells me who won last time and where the series stands. Have I had six fights with Volkan Oezdemir or four with him and two with Misha Cirkunov? I don't know, and I can't tell them apart. I've also been playing this game career for 10 hours and it's hard to look back and feel proud of my accomplishments.
And why can't I become WFA champ and enter the UFC with more hype?
It's a testament to the depth of the career mode that I actually busted out a pad and paper to keep track of my wins and losses, which is fine. DnD UFC, I can dig it. But it's also 2018 and this game has the most fluid and inspiring stand up fighting in the history of combat sports. Gimme my fight history. We've had that in other combat sports games (and just sports games in general) for years. It's little things like this that make me believe UFC 3 is standing shoulder to shoulder with the field of combat sports games (I'm including the Fight Nights here), on the precipice of taking that final step into GOATness with the next entry.
Creating fighters seems marginally upgraded, with an annoying to navigate move selection system and an overall lack of new skins, faces or hairstyles. The name and city selection is also painfully archaic and takes forever to scroll through. We shouldn't have to deal with that in 2018, not when a game is all about your journey, thus assuming you'll be creating a lot of characters.

As far as multiplayer goes, UFC 3 is the most couch-friendly entry to an MMA series since THQ's last game. An offline-only tournament mode is extremely fun, and EA lets you open up the hood and tinker with a multitude of settings that will affect everything from health regeneration to cut-scenes. The card-building mode is faster and easier to navigate, and simming a match between two AI opponents is a much better viewer experience. Damage carrying over (on meters and visually by scuffed up fighters) in tournaments is possibly the most wonderful thing any old-school fight fan could ask for, but EA needs to figure out some net code to allow for a few friends to hop in or out of tournaments for this to be truly next-level.
For gamers who want a more focused combat experience, there's a stand and bang kickboxing mode, as well as a ground-only submission battle mode, which is a nice touch. Knockout mode is intense fun when only a few hits can end a night, and there's a wide breadth of online competitive options.
Full disclosure: Due to a server wipe, I was unable to really test out Ultimate Team mode enough to have an opinion on it. The mode did catch a lot of flack when the beta was up for being "pay to win."
All in all, the package gamers are getting here feels like some truly outstanding work. EA UFC 3 is by no means perfect, but it's the largest step forward for a combat sports game since THQ's first Undisputed game in 2009. If you've been wishing for a new entry into the Fight Night series (which might not be coming anytime soon) or feel like the previous EA UFC games weren't for you, the evolution here can't be ignored, and it might be what you've been searching for all these years. If you're a vet to the series, there's a lot of the same, but the innovations make it worth diving back in.
Translated for fight fans: EA UFC 3 is Anderson Silva destroying Chris Leben. It's Jon Jones tearing apart Stephan Bonnar. It's Conor McGregor debuting and knocking out Marcus Brimage. It's on the precipice of greatness.