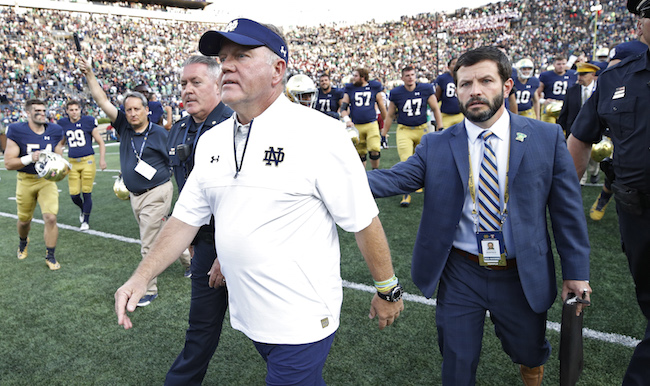 There's a saying that surrounds the University of Notre Dame. It's a four-word phrase that is engraved on the Basilica of Sacred Heart, a church on campus: "God, Country, Notre Dame." It's a phrase that pops up all the time if you follow college football recruiting, which I hope you do not, because I do and it stinks.
Anyway, Notre Dame's football team is participating in the Cotton Bowl on Saturday afternoon, a College Football Playoff matchup against Clemson. Prior to kickoff, the "Country" and "Notre Dame" portions of that famous phrase intersected when a dang eagle flew onto a Fighting Irish fan during the national anthem.

Now having a gigantic bird fly into the stands at a sporting event is scary, because you never know exactly what's going to happen when a bird of prey calls an audible and makes its way toward crowds of people and away from The Dude With The Glove. But the good news is that it seemed like everything went about as well as you could expect, because the person who ended up holding the eagle had a big ol' grin on their face.
In fairness to the eagle, if I got the opportunity to hang out in the stands and watch a College Football Playoff game, I'd probably try to do that, too.