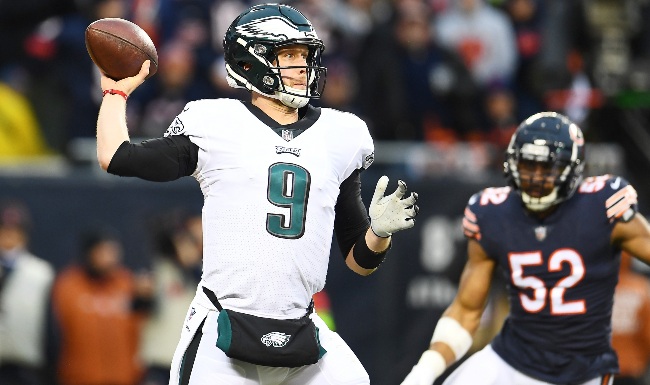 The Eagles and Nick Foles created more playoff magic in Chicago on Sunday night as they marched down the field late to score the go-ahead touchdown with under a minute to play.
Foles connected with Golden Tate on 4th and goal from the two with 56 seconds to play
However, the Eagles had to sweat a lot as Mitchell Trubisky, Tarik Cohen, and Allen Robinson combined to get the Bears down the field and deep into field goal range thanks to a big kickoff return from Cohen and this unbelievable throw and catch from Trubisky to Robinson.

Cody Parkey came on to attempt the game-winning field goal with 10 seconds remaining, and hit his practice attempt as the Eagles called their final timeout to ice him. On his second attempt, he tugged the kick left and, like he did four times in a game earlier this season, Parkey had the ball hit the left upright, then the crossbar, and bounce backwards into the end zone.
It's an almost impossible ending to the season for the Bears, and yet another moment of luck for the Eagles who keep their hopes of a repeat Super Bowl win alive behind the play of Foles and their stingy defense.