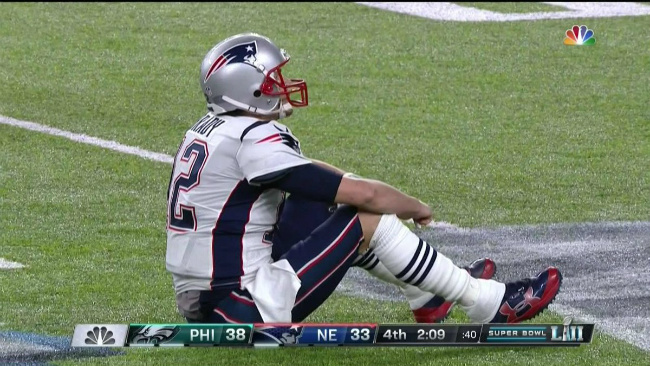 In a Super Bowl that set records for total yards and featured 72 points in the first 58 minutes of the game, it was. naturally. a defensive play that made the biggest impact.
After the Eagles drove down the field for a go-ahead touchdown from Nick Foles to Zach Ertz, Tom Brady and the Patriots took over with just over two minutes to play. It was a scenario we've seen Brady in numerous times before, and so often, he has led the Patriots to a win by way of late game heroics.
However, in this instance, the Eagles' defense managed to get timely pressure and force their first turnover of the game on the first sack of the night for either team. Defensive end Brandon Graham pinched inside to defensive tackle for the second down play and he was able to get to Brady for the strip sack, recovered by rookie Derek Barnett.

Brady, stepping up in an effort to buy some extra time and push the ball down the field, lost track of his internal clock and found himself gearing up for a throw down the field when Graham got to him. It was a stunning turn of events and led to an Eagles field goal attempt with just over a minute to play that put the Eagles up 41-33.