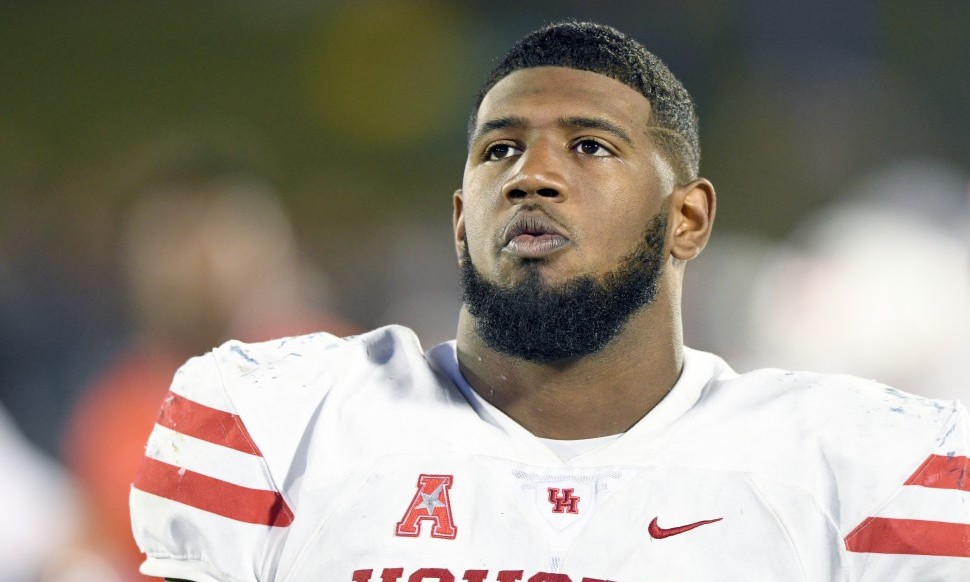 Ed Oliver has been a future first round pick in the NFL Draft since he was a 5-star prospect in high school. The dominant defensive tackle stayed at home in Houston to play for the Cougars, a coup for then-coach Tom Herman. In his three years at Houston, he showed why he was considered one of the top players in the country, routinely making life miserable for offensive lines, quarterbacks, and running backs.
As he prepares to fulfill the promise of his potential as a blue chip prospect this week in Nashville, Oliver is also getting ready for a new challenge beyond just a step up to the elite competition of the NFL. At Houston, Oliver often played on the nose, lined up directly across from the center, but he'll now move to a three technique, operating between the guard and tackle due to his slighter frame — he weighed in at 287 pounds at the NFL Combine.
Make no mistake, Oliver is still a force even though he doesn't fit the traditional size profile of a dominant defensive tackle. His burst and quickness are second to none, and he has plenty of strength to handle interior linemen (32 reps of 225 pounds at the combine). Still, there are questions some have about Oliver's positionality at the NFL level due to a lack of tape on him playing the three technique in college.
Mock drafts have been all over on Oliver, which is why he stopped paying attention to them at all once he saw one that had him out of the first round entirely. On Wednesday, Oliver spoke with UPROXX on behalf of Braun about how far he's come just over the past few months of the draft process, the biggest change he has to make as he moves further outside on the line, maturity, learning the selflessness required of a defensive tackle, "Old Town Road," horses, and more.

What has the draft process been like for you the last few months and how would you assess how far you've come in that time?
I feel like it's been light years from where I was to now, from guys I want to cling to and learn from, and even on the film side, I feel like I've come light years. I've had a lot of time to watch and learn and develop.
You mention guys you want to learn from. Who are those guys in the league now and those you watched growing up that you try to pull from their games into what you do?
Ndamukong Suh, Fletcher Cox, Grady Jarrett, Aaron Donald, you know, all those guys. If you good, I'm gonna watch you and I'm going to learn.
What are the biggest questions teams have had for you? Has it been about the weight, positionality, and where you fit in? What are teams asking you when you've gone into meetings with them?
They basically telling me that they haven't seen a lot of reps of me at three technique, but they pretty much know I can play judging off of me playing nose and my skillset. They pretty much know I can play, but other than that, that's about it.
Is that something you've really been working on, the move to three tech?
Yeah, that's something I took very seriously and I've been working. It's a different position and a lot more hands are required, hand fighting and hand combat. So, I've been getting my hands right and, ultimately, I want to come in and be able to effect the game immediately.
Some were surprised you stayed in Houston out of high school as a 5-star recruit. What were the things you felt you grew in and developed the most during your time in Houston and the things you're most proud of in your growth from a freshman to now?
It'd probably be maturity. As a freshman a lot wasn't asked of me. I didn't know how much I impacted my team, and now I know after having a season like that more is asked of you, whether it's on the field, off the field, in the classroom, in society. Probably be my maturity level is light years away from where it was.

At defensive tackle, where a lot of it isn't necessarily your individual production but opening things up for your teammates, how do you mentally grow into that role and understand you might not make the play but you can make it so someone else can?
Playing nose guard you have to learn to be the most selfless player on the field. So, that's one of the things that comes with the position, but I took it and I added my on little flavor to it and my own little swagger to it and I always stayed motivated to make plays and that's what I did.
Do you have an idea of where you think you'll go on draft night? Because it's exciting, but can be stressful as picks come and go?
Oh, I'm not worried about it. Wherever the picks fall, they're gonna fall. At the end of the night, I'm pretty much guaranteed my family will be happy and I'll be happy too.
You and Devin White are the two guys in this draft that actually ride horses so I have to ask for your thoughts on "Old Town Road" given that you're something of an expert in the field. Is that a song you've been a fan of?
Yeah. I mean, it's been in play so much now that I need a little bit of a break now, but it's definitely a good song.
Have teams asked you about horseback riding? I know teams have had concerns about stuff like guys that ride motorcycles, have any teams voiced any concerns about you riding horses?
Naw, horses are harmless, and ultimately they're a way to relieve stress more than a way you can get hurt. I mean, you can get hurt walking down the street, a car can hit you. I mean, a horse is a stress reliever, just like going to the range and shooting guns. In its simplest form it's a stress reliever.
You're working with Braun in Nashville, how are you making sure you're going to be looking right and feeling right for draft night?
You know Braun knows the importance of staying well groomed. So, they got me right. They have great products, especially for people with beards. So they got me looking good, got me looking right. They know the importance of the moment, so got me looking good.