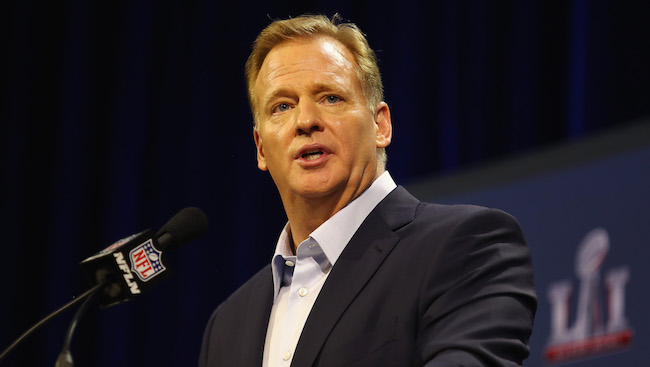 ESPN's layoffs came at a very interesting time for the company's NFL coverage, as the day before the first round of the NFL Draft a number of employees, including some NFL reporters, learned that they no longer had jobs. The layoffs did not hit the main NFL Draft crew — at least as of now — but the likes of veteran reporter Ed Werder and some team writers were without jobs the day before the draft.
Werder used his platform on "The Doomsday Podcast" to explain what happened with regards to the layoffs and said he was surprised to find out that he was among those let go. He also noted that he was reached out to by a number of NFL people, including commissioner Roger Goodell,
"As far as people I've heard from that surprised me the most, I heard from three or four head coaches, multiple general managers, Hall of Fame players, current players. And the most surprising to me was Roger Goodell, the commissioner of the NFL, phoned me. I was told that he was in a car when he got the word by someone who was with him and said he was angered by it. I haven't spoken to him yet, but that surprised me. And that tells me something about Roger Goodell as a human being."
Werder then joked that he texted Goodell that, if he hasn't found work by then, he'll go with him to Foxborourgh on his next trip there and serve as his body double. Werder was extremely open and honest about what went down at ESPN, explaining that the company was going to honor his contract (and everyone else's), but that if he chose to work in TV or media elsewhere at all during the remainder of his deal he would have to forfeit ESPN's pay.

He also mentioned a pair of NFL analyst names that we hadn't heard as being let go by ESPN publicly, but that he mentioned while lamenting the quality of programming ESPN would be losing by letting these people go.
"It causes me to wonder what is ESPN about because I thought it was about news and information and highlights, and I'm not sure that is the point of emphasis anymore. How is ESPN going to cover the NFL without all of the people who just lost their jobs? What happens without Merril Hoge and Ron Jaworski to 'NFL Matchup?' What happens to 'NFL Insiders' without a number of analysts, former general managers like Joe Banner and Mark Dominik? Are we really about to see a time when ESPN can no longer afford to cover its most valuable property in the way that historically it has?"
Hoge and Jaworski weren't among the original names we knew as being laid off and maybe this was a hypothetical by Werder, but it would seem to indicate that Jaws and Hoge are out as well. As for what happens to those shows, as ESPN announced earlier in the week, the new weekly lineup will cut down on shows, folding "NFL Insiders" into a 90-minute long "NFL Live," among other moves. If Werder is correct, losing "NFL Matchup" would, for me personally, be an extremely sad loss. Although the show had been all but phased out and moved to the wee hours of the morning, it was still the best pure football analysis show the network had.
ESPN's two biggest rights holdings are the NFL and NBA, but both saw significant layoffs over the past week. While ESPN's NBA crew lost its biggest news breaker and draft analyst among other layoffs, it appears as though those moves were to clear the way for Adrian Wojnarowski and his crew from The Vertical. On the NFL side, there aren't any whispers of replacements coming for Werder and company, as instead the NFL layoffs seem to be a legitimate trimming of the large staff of reporters, analysts, and personalities ESPN had covering the league, which doesn't sit well with the commish.