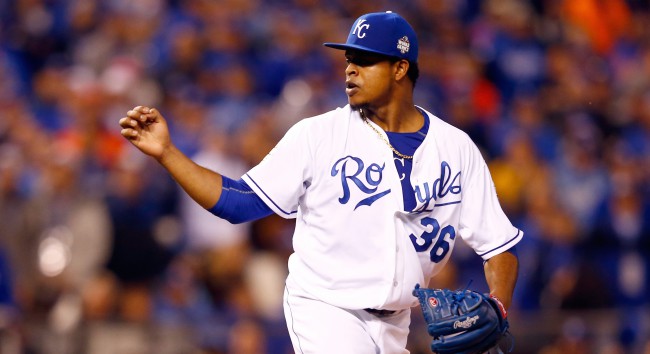 Sadly, the start of the 2015 World Series between the Kansas City Royals and New York Mets reportedly carries some somber news. According to an Associated Press report, "the father of Royals pitcher Edinson Volquez died shortly before" the start of Game 1. Volquez is pitching, too.
However, there are conflicting reports on whether Volquez knows about his father's passing. The AP says Volquez has not been informed of his death.
The person said Volquez was not aware of the passing of 63-year-old Daniel Volquez, who had been dealing with heart disease in the Dominican Republic. His son took the mound for his World Series debut as scheduled to a roar from the crowd inside Kauffman Stadium.
Barry Svrluga of the Washington Post is also corroborating that part of the story.
However, ESPN is reporting Volquez was informed of his father's death while on his way to the game.
Either way, this is an unimaginably sad and difficult situation for Volquez and the Royals. There's no great way to approach something like this with one of the biggest moments of Volquez's life underway. It brings to mind former Detroit Pistons guard Joe Dumars III, who was informed of his father's death after Game 3 of the 1990 NBA Finals.
Fox Sports has indicated they will not report about the death during the broadcast.
(Via the Associated Press)