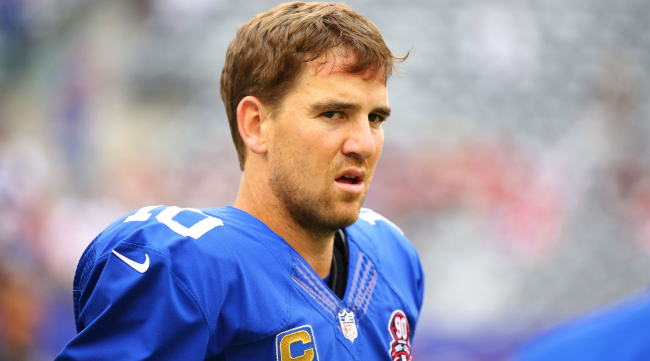 The most highly-paid player in the National Football League is Green Bay quarterback Aaron Rodgers. This is because Rodgers is the best player at the most important position in the league, and as such, the $22 million he makes is the most that any person in the league makes in a year.
Eli Manning is not the best quarterback in the NFL, he's almost certainly not among the five best, and you can pretty easily argue that he is not one of the 10 best quarterbacks in the league. Despite this, the two-time Super Bowl winning signal caller of the New York Giants wants to make more than Rodgers and every other football player on earth, according to NFL Network's Ian Rapoport.
Although the New York Giants hope to sign Eli Manning to a new deal by the start of the season, a "significant gap" remains in negotiations, NFL Media Insider Ian Rapoport reported on Monday's edition of NFL Total Access.

That gap is unlikely to close anytime soon, as Manning is pushing to become the game's highest-paid player, per Rapoport.
Sure, numerically, Manning's value does not come even close to the value of a top quarterback. His passer rating hasn't been among the 10 best signal callers since 2011, which also marks the only time that he's had a top-10 passer rating over the course of an entire season. Manning also completed more than 60 percent of his passes in 2014 for the first time in three years.
However, Tom Condon, the agent for the 34-year-old quarterback, argues that Manning's value lies in the way that he's been able to handle the ruthless New York media for his entire career.
"The Giants have always been a solid organization, and Eli obviously is a unique human being and a terrific guy, so I think he's uniquely suited to be the New York Giant quarterback,'' Condon said Wednesday on Sirius XM NFL Radio. "I don't know of anybody else who could handle that New York media and the scrutiny and all the pressure that goes with that the way that he does. He's truly is unflappable.''
Sure, Condon does have a good point, as evidenced by the fact that New York's other NFL team goes through signal callers pretty quickly. However, you'd be hard-pressed to find anyone who thinks that an aging quarterback who has taken a step back like Manning deserves to be paid more than every other player in the NFL.
(via NFL.com, New York Post)