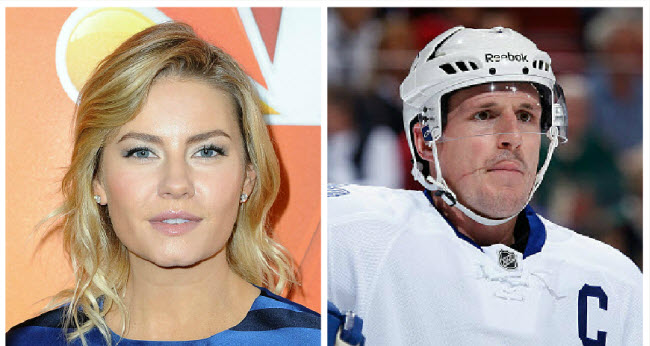 Elisha Cuthbert and her husband, Maple Leafs player Dion Phaneuf, have threatened a defamation lawsuit against TSN after the network accidentally aired a nasty tweet implying sexual relations between Cuthbert and another player from the team. The user tweet appeared during TSN's coverage of the NHL trade deadline.
TSN apologized for the tweet on Tuesday.
But the apology isn't enough for Cuthbert, Phaneuf and Joffrey Lupul who have hired the law firm of Gall Legge Grant & Munroe to represent them. Here's their statement:
"On behalf of our clients Dion Phaneuf, his wife Elisha Cuthbert and Joffrey Lupul, we have sent a letter to TSN demanding that TSN issue a formal apology and pay a significant amount of damages to each of our clients for broadcasting a false and defamatory tweet during their trade deadline show yesterday. We are sending a similar letter to the author of the tweet, Mr. Anthony Adragna.

"It is bad enough that there are people who spend their time using social media to publish such false and malicious stories, but it is made much worse when a reputable media outlet like TSN gives broad circulation and credibility to these false stories by republishing them as TSN did.

"If TSN and Mr. Adragna do not immediately comply with the demands set out in our letters, we have instructions from our clients to immediately commence a lawsuit against them.
We asked Kimberly John, an editor for theScore and graduate of the Pennsylvania State University Dickinson School of Law to weigh in.
There is arguably a strong case for a defamation lawsuit here. Defamation is a statement that harms a person's reputation, and accusations of sleeping with a teammates' wife are a prime example. Since defamation is a strict liability tort, TSN could be held liable and have damages assessed against company, despite its statement that publishing the tweet was a mistake.

There are a few defenses available against defamation: proving that the statement was the truth, that the plaintiff agreed with the statement, qualified privilege, or that it was a "fair comment." TSN might go in that direction if this lawsuit sees the light of day.
Was TSN's apology sufficient? We'll find out soon enough.