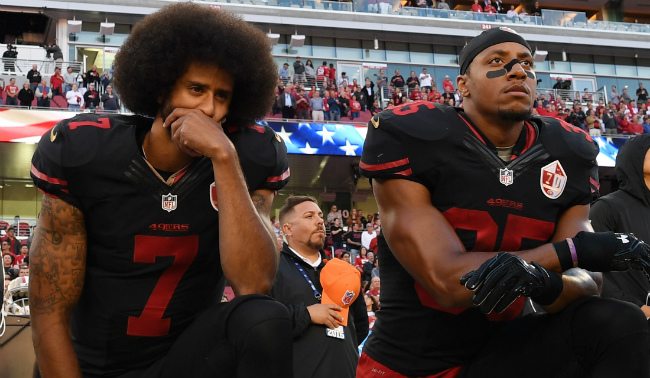 Last week, the Carolina Panthers — under the ownership of David Tepper, who recently purchased the team for $2.2 billion — signed Eric Reid, who is in the midst of a grievance against the NFL and its owners and alleges that they colluded to keep him unemployed due to his decision to kneel during the national anthem. Tepper has owned the team since July, making little more than cosmetic changes that really didn't amount to all that much. What makes signing Reid more than a cosmetic change, though, is that it sends a message, one the previous ownership group would run away from sending.
Under Jerry Richardson's stewardship, the Panthers presented themselves as being politically neutral, even if that wasn't always the case. For example, Richardson told a story in 2011 about how he asked Cam Newton to not get any tattoos. This came a month after the team signed Jeremy Shockey, whose arms had more ink than a library.
Richardson meddling with Newton would be common in the late stages of his ownership, like when he hired conservative political strategist Frank Luntz following Newton's MVP season in 2016. Newton said America didn't know how to handle him because he was an African-American quarterback on Super Bowl media day, but several months later, he took the position that America moved past race.

Reid's signing is a clear signal of a culture change, especially considering Richardson's stance on NFL players kneeling to protest police brutality — Richardson put out a statement in 2017 stating that "politicizing the game is damaging" and that it takes the focus off the game. Former Panthers player Marcus Ball wrote in Sports Illustrated that he might have been cut due to his decision to raise his fist during the national anthem in 2016. Ball did this after a local man, Keith Lamont Scott, was shot and killed by police.
Scott's death highlighted the disconnect between Richardson's Panthers and a number of their fans, especially considering how special the 2015-16 season was for Carolina. On the field, Newton and the Panthers could dab after touchdowns and take celebratory team pictures after big wins en route to a 15-1 record and an NFC Championship. Yet at the same time, those same players could not use the platform that came with their success to speak out about police brutality going on in the city they represent without repercussion.
This is what makes Reid's signing so jarring to anyone who's followed Carolina for any length of time. The thought of the Panthers signing Eric Reid — whose name is, in this instance, a stand in for any player who uses their platform to so vocally challenge a power structure that is inherently unfair to everyone that isn't a white man — under Jerry Richardson is borderline ridiculous. But Reid's signing is, hopefully, a sign of things to come. Perhaps under Tepper's ownership, players will be free to express themselves without repercussion.
https://twitter.com/jjones9/status/1046817768220364801?s=21
Something like that matters in a city that rioted in 2016 over the aforementioned murder of Scott. While that is a more specific example of racial injustice in Charlotte, a more broad point of the need for players to use their platforms to promote social change is the simple fact that the city ranks dead last in upward mobility for those in poverty among major cities.
Enter Reid and wide receiver Torrey Smith, who was acquired via a trade earlier this year. Both players are outspoken about problems they see, and back up their critiques by volunteering their time to make their communities better. As a resident of Charlotte, even if they help the team win a Super Bowl, I fully believe their biggest impact will be felt for what they accomplish off the field.
At the end of the day, it'd be naïve to think signing Reid is just another transaction. Sure, the Panthers filled a need that might make them a contender in the NFC, but beyond that, Tepper and co. signed a player who will roll up his sleeves and become a force for good in a city that could use some help.