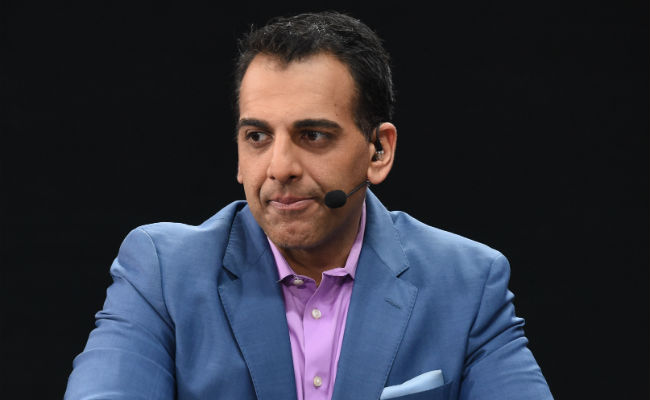 Adnan Virk was abruptly fired by ESPN over the weekend after he reportedly leaked "confidential information" to parties outside of the sports network.
Virk, 40, was considered a rising star in the company, but according to the New York Post he was escorted off ESPN's Bristol campus on Friday after the company felt he failed to cooperate with them in an investigation into leaks to other media properties.
"Adnan Virk no longer works at ESPN," ESPN vice president Josh Krulewitz told the New York Post on Sunday.

Virk was the lead host of ESPN's college football coverage and regularly anchored Baseball Tonight, which the network announced last month would not return in 2019. According to the Post, little information about the details of Virk's dismissal is currently known.
Virk is accused of leaking confidential company information to the media on multiple occasions, according to sources.
The Athletic's Richard Deitch reported on Monday that the now-former ESPN anchor is looking into legal representation and whether ESPN violated the terms of his contract with the network when he was abruptly dismissed.
ESPN has not explained the move beyond its statement on Friday, and Virk hasn't spoken out since his dismissal. But according to Andrew Marchand's follow-up story on the firing in the Post on Monday, the network grew suspicious because of an Awful Announcing post about ESPN.

The instance that led to the final decision to relieve Virk concerned a story that appeared on the website Awful Announcing about the network's changes to Sunday Night Baseball.
In part, the report said Major League Baseball had opted to let ESPN slide on contractual obligations that called for it to have a certain amount of studio shows during the season in return for moving "Sunday Night Baseball" from 8 p.m. to 7 p.m.

ESPN had a conference call about "Sunday Night Baseball" that the network believes Virk revealed to Awful Announcing. Sources said the "premeditated nature" of the outreach alarmed ESPN. It is unclear what motivated Virk, though sources often try to curry favor with reporters.

When the conference call took place, Virk was not on the whole time, and the specific information about the future schedule for baseball was actually not discussed.
The Post reported that Virk later asked some follow-up questions about the changes to senior coordinating producer Phil Orlins, the senior coordinating producer, and those concerns matched what later appeared in the Awful Announcing article. That reportedly was what tipped ESPN off, and Virk — who had signed a 4-year deal with the network before his dismissal on Friday — was not cooperative with ESPN when they investigated the incident.