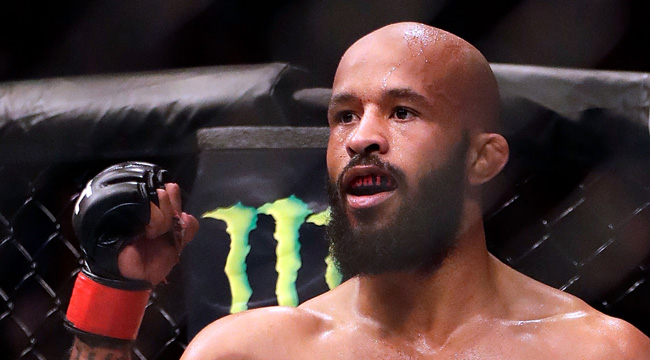 In what may be the most telling moment of Demetrious 'Mighty Mouse' Johnson's career, the 125 pound flyweight champion won the ESPY award for Fighter of the Year but ESPN didn't bother to tell anyone about it.
Outside of ESPY competition, Johnson has received the vote of many in the know MMA fans as the best pound for pound fighter in the sport right now. But he's also plagued with a reputation for being unable to move the needle promotionally. I think it says a lot when the man wins an ESPY (voted on by both media members and fans) for Fighter of the Year but then barely gets a mention about it. Fighter of the Year is typically a big deal. When Conor McGregor and Ronda Rousey won the last two, ESPN gave the award full coverage. This win from Demetrious got all the attention of one of those Oscars they give out before the broadcast ceremony begins.
ESPN didn't even bother to congratulate Johnson on their ESPN or ESPY specific Twitter accounts. Things they did find the time to promote:
Confetti.
A duck.
Jarrius Robertson (actually I ain't complaining about this one, it's the most heartwarming thing you'll see today).
Floyd Mayweather and Conor McGregor.
But no mention of Johnson, not even a retweet of the UFC's announcement that Demetrious had won!
Johnson is currently 26-2 and riding a 12 UFC fight win streak. He's tied with Anderson Silva for most title defenses in UFC history at 10, and is likely to break that record with his next fight. Earlier this year, he got into a huge feud with the UFC over who he'd face to break that record. The UFC wanted former bantamweight champ TJ Dillashaw to move down a weight class to fight him, arguing that it was one of the rare fights involving Johnson that fans were interested in seeing, and a worthier challenge to break Anderson's record. But before we continue, lets take the time to enjoy this ESPN tweet about Bailey the Tiger, the LA Kings mascot.
Okay then, back to Demetrious.
A back and forth in the press ensued with UFC president Dana White questioning Johnson's credibility as a pound for pound great if he refused, and Johnson releasing a lengthy letter calling the UFC bullies. Demetrious claimed that White threatened to shut down the entire flyweight division over the situation, and as of this writing there's still rumors that the UFC has looked into selling the entire 125 pound division off to another promotion.
It's not a good situation, and maybe this ESPY will give Mighty Mouse a little bit more job security. Or maybe not, considering how flat the celebration surrounding his win has been. Demetrious Johnson winning the ESPY for Fighter of the Year and no one caring is the most Demetrious Johnson thing ever.