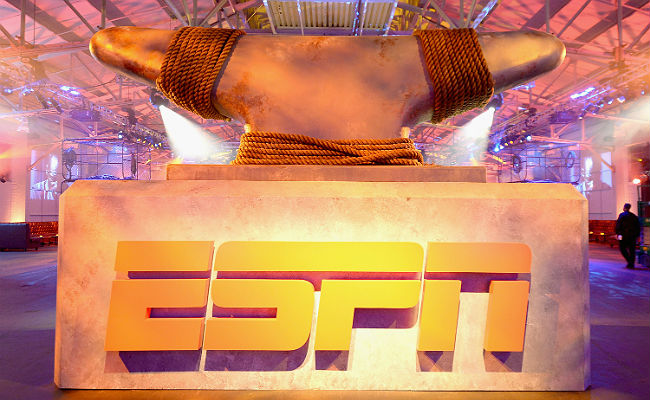 ESPN president John Skipper sent a company-wide memo to all employees on Friday that essentially said they should stick to sports and have more discretion when commenting about political issues. Skipper's memo was quickly leaked to the public. In it, the Four Letter's president acknowledged the attention brought on ESPN by Jemele Hill's tweets earlier this week, but did not announce any further punishment for Hill calling president Donald Trump a "bigot" and "white supremacist."
The White House has twice called to attention the tweets, with White House spokesperson Sarah Huckabee Sanders saying they were a "fireable offense" and later saying that ESPN is "hypocritical" in not punishing Hill. The network reportedly considered replacing Hill on a broadcast of the 6 p.m. SportsCenter show but did not when no anchor would replace her. Additionally, co-host Michael Smith reportedly refused to do the show without her.
ESPN released an official statement earlier in the week, but by Friday the network felt a further response was necessary to its employees. The memo explicitly says that it's not possible to "stick to sports," but then all but tells ESPN employees to do exactly that.
"Of course, sports is intertwined with society and culture, so 'sticking to sports' is not so simple," the memo reads in its second paragraph. The following seven paragraphs, though, undermine much of that initial premise.
"I want to remind everyone about the fundamental principles at ESPN. ESPN is about sports," Skipper's memo began. "ESPN is not a political organization. Where sports and politics intersect, no one is told what view they must express."
Skipper did not mention Hill by name but admitted that "we had a violation of those standards in recent days."
"And our handling of this is a private matter. As always, in each circumstance we look to do what is best for our business," the memo read. "In light of recent events, we need to remind ourselves that we are a journalistic organization and that we should not do anything that undermines that position."
It doesn't appear any further punishment will come of it, but ESPN's stance on the issue is clear: Avoid politics, or be prepared to face the consequences for putting ESPN in a negative light.