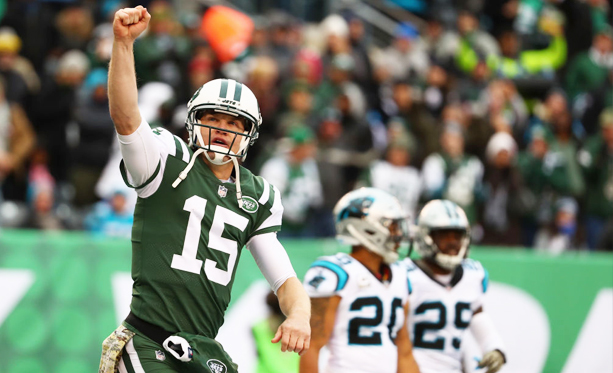 There's one constant in fantasy football: your Week 13 lineup will look nothing like your Week 1 lineup. If you are still rolling out your players from Week 1 then congrats — you avoided the injury bug, or you might not be headed for the playoffs.For the rest of us, especially those of us who have gone through a quarterback carousel this season, it's time to get down to the nitty gritty and grind our way to a championship with some decidedly un-sexy players.
Next week: playoffs.
Week 13 waiver wire pickups
Week 13 wide receiver/running back start/sit
Start/Sit
QUARTERBACK STARTS
Case Keenum: Let's start out with a caveat here — if you've got a stud under center then don't get cute, but if you're like me, who went from Aaron Rodgers to Alex Smith to possibly a dark void of nothingness, then consider these players who have done damn well over the last few weeks. Players like Case Keenum, who has arguably best WR duo in the league, who has been the 4th overall best player in fantasy over the last month. Only Roethlisberger, Brady, and Wentz have been better. Now he's playing Atlanta, who enjoys shootouts more than John McClain.
Hey, Case:
Josh McCown: The inverse of Case Keenum, who suffered under Jeff Fisher and only relatively recently became the journeyman that Josh McCown has been for the last decade or longer, is McCown himself, who is having a career year at 38-years-old and is playing the Chiefs, a bottom-five pass D.
Brett Hundley: Backup of Aaron Rodgers and seemingly all-around swell guy Brett Hundley has seen peaks and he's seen valleys, and now he's seeing things slow down for him as he takes on the Bucs, who have been the worst pass defense in the league over the last month. Hundley is only for the truly desperate, so…
***Bonus QB!!!***
Wow, a bonus QB in Week 13, how exciting. If you can't stomach Hundley, always remember that Philip Rivers has a soft-as-hell schedule and he plays the Browns this week if you can get your hands on him.
Also, remember this?
QUARTERBACK SITS
Tyrod Taylor: I love TyGod as much as the next guy, but the Patriots have improved against the pass in the last few weeks, and Buffalo, in general, looks like a mess. Yes, Taylor is the starter now, but what if the Bills decide to bench him mid-game and your fantasy playoffs are tanked? It's a situation I'd prefer to avoid.
Alex Smith: At one point this season, Alex Smith was a bonafide MVP candidate with a rookie of the year running back and two playmakers catching passes. One was even a wide receiver! Now the NFL has collectively figured out Mr. Smith, and the Chiefs look pedestrian. Smith is back to the 12-20 range he's been for most of his career, and we must move on. Even against the Jets. Sad.
Jimmy Garropolo: It looks like Jimmy G. is going to get his first start in a Niners uniform against the Bears, but stay away. Why would you even do this? There are people on Twitter actually considering it because he threw a touchdown in roughly 90 seconds of play
All of these things are true and real, but c'mon.
TIGHT END STARTS
Jack Doyle: Jacksonville gave up points to Cards TE Ricky Seals-Jones, and while it's possible that Jacoby Brissett spends most of his time splayed out on the turf, Jacksonville seriously gave up a ton of points to Ricky Seals-Jones and Blaine Gabbert. There are points for Jack Doyle this week, like all weeks. He's getting the volume, and he has the hands.
Evan Engram: The guy is a top-five TE for the foreseeable future, like, for years, and he's had two bad games in a row. Oakland has been solid against the TE recently, but on the season, they're a bottom-ten team against the big pass catchers. I believe in Engram. I believe he'll get back on track.
Hunter Henry: Cleveland always gives up the touchdown to the tight end. Always. They will always do this. I don't like Henry, you should probably start Austin Seferian-Jenkins instead, but just be reminded that Cleveland always gives up the touchdown to the tight end. Always.
TIGHT END SITS
Greg Olsen: It looks like he'll play against New Orleans, but his foot injury flaring up and taking him out of the game could be something owners deal with well into the playoffs. In my opinion, sit him this week considering he'll be on a snap count anyway, and hope he's near full-speed for the playoffs in Week 14.
Tyler Kroft: Three receptions for 14 yards, but the TD bailed out Kroft owners again. Fact is, Kroft is only for deep leagues that desperately need someone who's an oddly proficient red zone threat. Kroft has 30 total yards in the last three weeks.
Travis Kelce: It's a sad, sad day, friends. The Chiefs are in turmoil and the horror has finally landed on Kelce's doorstep. Normally, he's Smith-proof, but Kelce is out there throwing interceptions and seeing far too few targets. Realistically, you're not benching him, but his matchup this very week with Smith and Reid under a microscope will help you guide your team decisions into the playoffs. Pay attention.