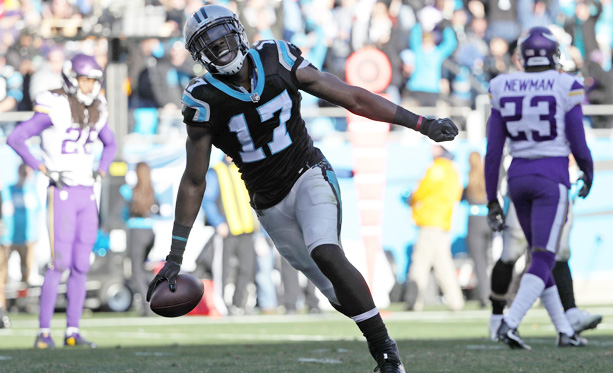 If you're reading this, you've made it into the second round of the fantasy playoffs. Bully to you, savvy fantasy owner. Now you're just two wins away from eternal glory in the eyes of your friends, family, and someone that you maybe have never met or haven't spoken to since November 8th, 2016. At this point, it's safe to assume that your team is good. Damn good. And you play your studs in Week 15 and 16 — there's no need to get cute. But, there are some plays better than others, and some matchup that are possibly being overlooked. Let's dive in.
–Week 15 Quarterback and Tight End Start/Sit
Start/Sits
WIDE RECEIVER STARTS
Devin Funchess: It seems like Funchess has quietly become a dependable WR2, and now that we've seen a dependable body of work, we can rest easy knowing he'll be in a sweet matchup against the Packers this week. Funchess has seen five games in a row averaging over 17 points-per-game in PPR leagues. If he did that all season, he'd be in a WR1 mix. The Packers just gave up 265 yards and three touchdowns to Deshone Kizer.
Cooper Kupp: See "Rams Wide Receivers" in the Wide Receiver Sits section below.
Marquise Goodwin: The touchdowns aren't there yet, but since Jimmy Garoppolo took over in San Francisco, Goodwin's become his clear go-to guy. He's soaked up 26 targets, catching 18 of them for 273 yards. He's a clear WR2 for now. The Niners play Tennessee's bottom-ten pass defense in Week 15.
WIDE RECEIVER SITS
Josh Gordon: He's had 17 targets in two games andis one of the best stories this year. He's back, he really is. But the Ravens are one of the best defenses in the league, and everyone comes back down to earth. You've made it 12 weeks without Gordon this year, do you really need him for this matchup?
Keep in mind Ben Roethlisberger just threw for 550 yards against them, but before that…
And the Browns aren't the Steelers.
The Rams Wide Receivers: If Robert Woods plays, you probably need to sit Cooper Kupp. If Woods sits, then Kupp should be played. If Robert Woods plays, you should also sit Robert Woods and always be sitting Sammy Watkins. Does that make sense? See how Woods does coming back from injury unless you're desperate.
A note on the Steelers/Patriots game: If there was a game this year that felt like a guarantee to top well over 1,000 yards of total offense, this is it. Keep in mind that you should bench Amendola with Chris Hogan being healthier and Gronk is coming back. Additionally, the Patriots just signed Kenny Britt because they supposedly needed wide receiver help, but don't play him. Don't be that guy.
Kenny Britt will either score 0 points or 22 en route to some weird daily fantasy holiday miracle.
JuJu Smith-Schuster seems too volatile to play right now, but if you're running out of options, you could do worse than to play JuJu or Daniel A.

RUNNING BACK STARTS
Jordan Howard: The Bears realize that in order for them to be a competitint offense, they need to get the ball in Jordan Howard's hands. He had 23 rushes against the Bengals, and now he's got a Detroit team on deck that's given up the 5th-most points to opposing RBs. That little blip a few weeks ago was just that. Feel confident rolling him out again.
Alex Collins: Keep on keeping on with Collins, who is adding to the incredible year of up again down again rushing performances from so many people. He'll be a must-start against the Browns.
Kenyan Drake: The Dolphins are absolutely feeding their new primary rusher to the tune of 48 totes on the ground over the last two games. Now Miami faces the worst rushing defense in the league, the Buffalo Bills.
RUNNING BACKS YOU MAY WANT TO SIT BUT THE POSITION IS SHALLOW SO JUST GO OUT AND WIN
Jamaal Williams: He's been the third-best RB behind Le'Veon Bell and Alvin Kamara over the last month, but the Panthers have a top-five rushing defense. A lot of this also depends on if Aaron Rodgers comes back. What will the gameflow be like? Will he get the same amount of work? Listen, running back is a terrible bad position, and you play him if you need him, but he's had a soft rushing schedule since taking over the job and he's touchdown dependent. If you play him, I understand. Do what you gotta do.
He is really, really good though.
Mike Davis: Seattle's newest running back on the carousel has seen 31 rushes since taking the job, and the Rams are giving up the second-most rushing yards in the league, but Seattle tends to spread out their offense so much that it's hard to depend on him.
Lamar Miller: Even averaging over 15 touches a game, Miller hasn't topped 70 yards rushing since Week 5, and and has only rushed for more than 70 yards twice this year. That said, Sacksonville's rush defense is near the bottom of the league. The question, though, is if they're going to have to play catchup and will get away from the run. This could lead to a few catches from Miller, but it seems like he'll be a RB3/flex play.