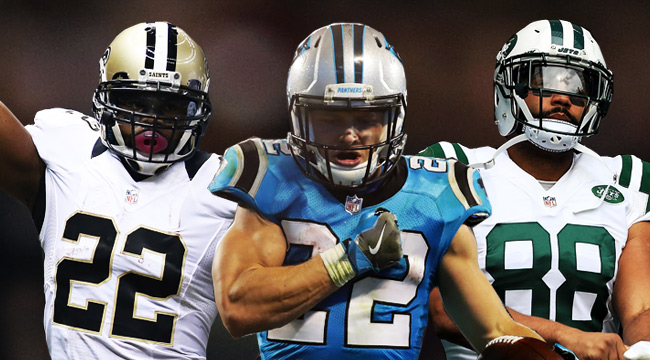 As we head past the halfway point of the fantasy regular season, we're seeming to be without Ezekiel Elliott for the next six games and definitely without Aaron Rodgers for the season. Another week, another brutal blow to our teams. This has been a terrible year for people who want a nice, calm fantasy season to distract them from the random horrors of the world. Instead, we're just getting weekly reminders that anything can and will happen. Thanks, fragile collarbones.
Also, there's a Curse Watch™ brewing. Considering Brady is on the cover of Madden and involved with this Sports Illustrated necromancy, it's only a matter of time until his veggie juice is tainted and everything really starts falling apart.
Bye weeks: Detroit and Houston.
Start of the Week
Adrian Peterson leaving New Orleans is great for everyone involved. Peterson is getting fed in Arizona, Alvin Kamara is getting an expanded shot, Mark Ingram is the clear number one and will get plenty of red zone opportunities, and Sean Payton doesn't have to get the stink eye anymore. It's the ultra-rare win-win-win-win.
=
Much more on Peterson later, but for now, Ingram is your SOTW (pronounced sôt-wuh).

Start/Sit
QUARTERBACK STARTS
Carson Wentz: Thanks to Aaron Rodgers going down, Wentz is a top-five QB, and could be for the rest of the year at this pace. His rise into fantasy relevancy has been overshadowed by DeShaun Watson's godliness, but he's putting up very consistent numbers week in and week out. His floor is that of a QB 10-12, and his shootouts can lead to some high-scoring games, like the one he'll see Monday night against a middle of the road Washington team. He can do it with light attempt totals too. He threw the ball 30 times, had 16 completions, and scored three times.
Carson Palmer: Let's just keep on doing this. If you just lost Aaron Rodgers and Palmer is available, roll him out against a Rams defense who are giving up a healthy amount of yards through the air and the ground. A healthy, good Adrian Peterson also helps Palmer and his nice little play-action opportunities. David Johnson owners really want a Cardinals win here, too, so they feel like they have to bring him back at the end of the year. Add that on top of your stresses.
Also, please notice how Palmer gets hit here. He gets hit a lot. We have to assume he'll be going down soon (probably the week before David Johnson comes back), at which point we will move on quietly.
Tyrod Taylor: Even with their defense getting healthier, the Bucs defense is one you want to target. Once again, for the heartbroken Rodgers owner, Taylor could be someone decent to stream. Lavonte David and TJ Ward are a week healthier, LeSean McCoy isn't catching passes with an injured hand, he doesn't have Charles Clay, but Taylor has a way of getting chunks of points (it's his rushing totals).
QUARTERBACK SITS
Derek Carr: The guy wasn't playing well before he broke his back, now he's out here providing no one with any value. It's not like he's got time to rest — he has a Thursday night game against the Chiefs with Justin Houston salivating. Stay away. There are other options (Watson/McCown/Wentz).
Philip Rivers: This is just a reminder that your Chargers are not reliable this week against Denver. Maybe Melvin Gordon. Yes, Melvin Gordon.
Ben Roethlisberger: Martavis Bryant is asking for trades, Big Ben is saying maybe "he doesn't have it anymore," our pets' heads are falling off! Now the Bengals, who boast one of the best passing defenses in the league, are coming to Pittsburgh. Antonio Bryant should still do fine, same with Bell, but Ben could add another few interceptions to his season total. Remember what happened against the Jags in Week 5? Remember this season?
WIDE RECEIVER STARTS
Nelson Agholor: He seems to play exceptionally well when he can be left alone and the best corners stick to Alshon Jeffery while Ertz soaks up coverage down the middle. Now Josh Norman will likely shadow Alshon, and Agholor might have himself another game. Dude's making plays all over the place.
Larry Fitzgerald: He still looks like the Larry of old, and since Palmer is under so much pressure, he needs to get rid of the ball quickly. Larry is there, waiting, accepting of Palmer's struggles and passes. Fitz once again dominated target share, garnering 50 percent of the targets with 11, catching 10 balls for 138 yards and a TD.
Jarvis Landry: If DeVante Parker can't go again in Week 7, Landry will be Smokin' Jay Cutler's primary target once again. This week, Landry enjoyed a juicy 42.4 percent of Jay's targets, turning 14 of them into 8 catches for 62 yards and a touchdown. He can do that again against the Jets. Absolutely. Most of his value comes in PPR leagues, but he's damn dependable.
WIDE RECEIVER SITS
T.Y. Hilton: As long as Luck is out, Hilton continues to be a situational play. Specifically, he's only good at home against mediocre secondaries. Considering they're at home, against the Jaguars, and Brisset is still under center, it might be worth it to bench Hilton and just roll out a Jeremy Kerley or Ted Ginn or Devin Funchess. His booms are nice, but his busts have a floor of just about any mediocre player out there. Go with upside. It's Week 7. You need to win.
EA UFC 2 is an underrated gem.
Amari Cooper: In line with the Carr sit and the eventual (spoiler) Marshawn Lynch sit you'll read down below these words, it's time to bench Cooper and be very sad about it forever. This last week was his bounce-back game with 5 catches for 28 yards. He's currently dealing with a knee issue, and Oakland is leaning on Crabtree.
Sammy Watkins: So, 1/11 for Watkins this week. You would think they would feature Watkins considering his talent level, and give him more than just 4 targets, but nope. Now he'll see Patrick Peterson. Could be another bad week. Especially if Goff keeps playing like this:
The ghost of Jeff Fisher may haunt this offense yet.

RUNNING BACK STARTS
Jordan Howard: You're obviously playing him, but don't be afraid of rolling out Howard against the highly-ranked Panthers run D in daily fantasy either. Keep in mind that while the Panthers have allowed the seventh-fewest rushing yards in the league this year, they're also only seeing 21 rushes against them per game and are giving up the 15th-most yards per carry. Considering the Bears can only run, Howard is gonna rack up points on volume alone. Especially if Kuechly is out.
The man had 36 carries last week.
Melvin Gordon: The Broncos are giving up tons of yards on the ground, and Gordon is someone who has burned them in the past. That was then, this is now, and things are kind of the same, so have no fear rolling out Gordon who had 25 carries and 9 receptions against Oakland in Week 6. He might be a sweet DFS play, too. We'll have to ask our Daily Fantasy guru Dan MacRae.
Adrian Peterson: Well… Yeah. This seems like it's happening. Adrian Peterson is motivated, and Motivated Adrian is a scary thing (to the tune of 26 rushes for 123 yards and 2 TDs) until his body gives out. So ride him for now, the Rams are giving up tons of yards on the ground. He's a flex for most teams, and an RB2 if you're ravaged like certain people (me). The best part of this is Peterson's ability to get into the end zone. Hopefully this Adrian Peterson comeback lasts for a few more weeks.
RUNNING BACK SITS
Andre Ellington: Adrian Peterson has ruined Ellington. He went from double-digit targets two weeks straight, two getting 1 rush and 1 target for a total of -2 yards in Week 6. This is not a good situation. It will likely even out a bit with Peterson not getting 26 carries and Ellington doing a bit more out there, but Ellington is officially off the RB2 in PPR league and flex in standard league discussion until something shakes out.
Marshawn Lynch: I went out on a limb and put him as the Start of the Week, now the truth has washed over us like a sea of half-chewed Skittles™. He's just not getting the workload needed for an RB1 or 2. If you picked up AP, or perhaps Blount, you can play them over Lynch. Sad.
Anyway, it's a short week. They play the Chiefs on Thursday night, and Carr still looks like his broken back hurts.
Latavius Murray: It wasn't supposed to work out like this, but here we are, with Jerick McKinnon looking like the guy he always was supposed to be and Latavius Murray looking like the guy we always thought he was. McKinnon is getting more goal-line work, more snaps, more rushes and way more targets in the passing game. Murray is now the handcuff to McKinnon.
TIGHT END STARTS
Kyle Rudolph: If Stefon Diggs misses another week, it's worth it to start Rudolph, who went missing when Adam Thielen and Diggs were going off over the first quarter of the season. Make your adjustments accordingly.
Austin Seferian-Jenkins: Let's roll him out again! If it weren't for a weird call by the refs, Jenkins would've had two touchdowns on the day. McCown is surprisingly serviceable and he's clearly found a spot on the team offense, seeing 19 targets over the last two weeks. Miami has a bottom-five defense in terms of points allowed to opposing tight ends.
Cameron Brate: Even without Jameis Winston in the game, Cameron Brate continued to put up solid totals. He finished the day with a 6/76/1 line, and tied top target share with Mike Evans at 19% with 8 targets. He's becoming an every week thing.
TIGHT END SITS
Zach Miller: He was a fine low-end TE1 last season for a few games in the PPR format, and he's emerging as one of young Mitch Trubisky's top targets, but that means about two catches a game. Yes, he scored a touchdown, but until Mitchell gets caught up and doesn't need tiny Tarik Cohen throwing his TD passes for him, stay away from any Bears not named Jordan Howard.
This was cool, though.
Hunter Henry: In these dark days of TE plays, we go to Hunter Henry, who ran in over 70% of Chargers routes against Oakland. Normally, he'll do, but his output will have peaks and valleys. Against Denver, it could very likely be a deep valley. In their first meeting Week 1, Henry didn't even see a target. Why? Don't play with fire.
Jason Witten: The Niners are one of the top defenses against fantasy tight ends, and Witten's usage seems to be determined by prophecies and the color of the sunset on any given Sunday. He saw 10 targets against Green Bay week 5, but 2 in Week 4, then 13 in Week 2? The lack of Zeke (???) could get Witten more touches, but who knows?

Waiver Wire
NE RB Dion Lewis: Slowly but surely, Lewis is working his way back to the form he had in 2015. Rex Burkhead could come back this week, ruining the celebration for everyone, but he's still a worthy stash candidate.
"Lil Dirty" -Tom Brady
"Jitterbug"- Jules
Dion Lewis slippery af pic.twitter.com/E8wnq6INjk

— Drew ? (@UltraHokage) October 16, 2017
DAL RBs Alfred Morris/Darren McFadden: If you didn't pick up either of these guys last week when news broke of Ezekiel Elliott's suspension possibly maybe going into effect again, you're probably missing out already. But if not, get them. Morris was the backup to Zeke during the season, but Jerry Jones loves him some patriotism and Sooners.
PHI WR Nelson Agholor: He was worth drafting and has made multiple appearances in the waiver wire section already this year, and this might be your last chance to get him. See the Wide Receiver Starts section.
ATL WR Taylor Gabriel: The playmaker was worth picking up in deep leagues weeks ago, but with Mohamed Sanu out, he saw 8 targets against Miami. He only turned those into 4 catches for 39 yards, but it's only a matter of time until he breaks one. Don't forget last year:
CIN TE Tyler Kroft: Tyler Eifert's season is finished, so the other Tight End Tyler will step in and likely be Andy Dalton's second-favorite target after AJ Green. He's seen 16 targets over his last three outings, catching two TDs in that time. He'll be a fine bye week replacement that might pay dividends as he and Dalton get more familiar with each other.