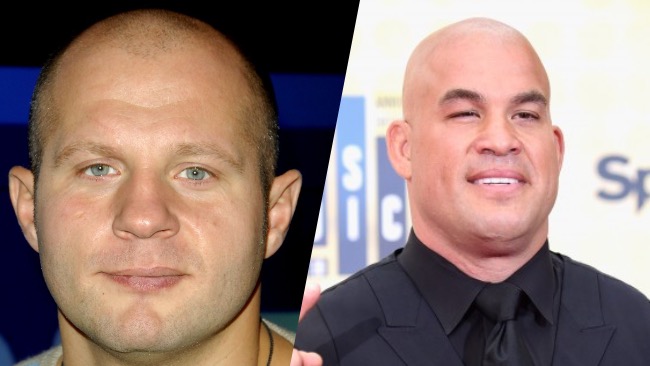 It's a fight that has been whispered about for some time now and may finally come to fruition in Bellator, as Fedor Emelianenko and Tito Ortiz may be locking horns in the near future. The news comes from VK, and has been translated from Russian below, and states someone "close to the leadership of (Bellator)" revealed the promotion is working on getting the fight signed soon.
NOT OFFICIAL: Fedor Emelianenko vs. Tito Ortiz?

Many MMA fans worldwide are wondering who will be the next opponent of "The Last Emperor".

According to one insider news MMA, close to the leadership of the promotion, who wished to remain anonymous, is currently working on the organization of the fight Fedor Emelianenko and Tito Ortiz.
The fight will be held in the heavyweight division and held in one of the tournaments Bellator
The fight, if it does happen, will apparently be a Heavyweight clash, a step up for Tito, who spent his career as a Light Heavyweight. Fedor's last fight was a sloppy and controversial win over Fabio Maldonado at EFN 50. The fight was highly suspect among MMA fans and reporters, as Fedor's friend served as head judge of World MMA Association, which presided over the fight.
That fight was aired, curiously enough, on UFC Fight Pass, which prompted rumors that Fedor was headed to UFC, maybe to fight Brock Lesnar, in the near future. But with the Ortiz rumor surfacing it seems that may be out the window after his poor showing against Maldonado.
(Via VK)