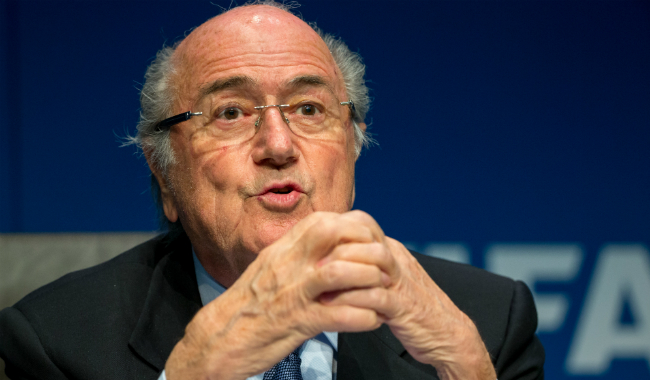 The U.S. Department of Justice's arrests of FIFA officials in Switzerland on Tuesday night has set off an avalanche of crap coming down on the governing body of international soccer. Remember, this is happening the same week that FIFA's annual Congress is being held, at which President Sepp Blatter is up for (and presumed to win) re-election as the president of FIFA.
The DOJ investigation is reportedly focusing primarily on bribery and corruption in relation to tournaments held in Central and South America, but not the incredibly suspect bidding processes for awarding the 2018 and 2022 World Cups (in Russia and Qatar, respectively). Now, Swiss federal prosecutors have announced that they're opening up a criminal investigation into that very subject, which is welcome news for any supporters of transparency in matters such as this.
It's doubtful that the Swiss government has any power to force FIFA to move the World Cup, but if their investigation bears fruit, it can still have a more meaningful impact than the U.S. investigation for one big reason: Blatter is Swiss, and he lives in Zurich (where the election is to be held). If prosecutors find wrongdoing from his office, they could very feasibly hold him accountable. That still is several steps away from being likely, but it's very encouraging.
Blatter, for his part, released a statement announcing that he was provisionally banning all those named in the DOJ investigation and re-asserting that he's really the good guy here:
As unfortunate as these events are, it should be clear that we welcome the actions and the investigations by the US and Swiss authorities and believe that it will help to reinforce measures that FIFA has already taken to root out any wrongdoing in football.

While there will be many who are frustrated with the pace of change, I would like to stress the actions that we have taken and will continue to take. In fact, today's action by the Swiss Office of the Attorney General was set in motion when we submitted a dossier to the Swiss authorities late last year.
You know what that statement reminds me of? The desperate insistence of a guilty man:
UEFA, the European branch of FIFA, probably sensing that Blatter is weaker than ever, has reportedly called for a postponement of the election, and is considering a boycott if it proceeds anyway.
Things are clearly snowballing against Blatter and the entrenched powers in FIFA, as what once seemed an impenetrable institution is showing real cracks, and opposition is obviously emboldened. We may yet see more groups piling on to address grievances that have been heretofore ignored.
And we will definitely see more strained soccer analogies, like this one from U.S. Chief of Criminal Investigation Richard Weber: