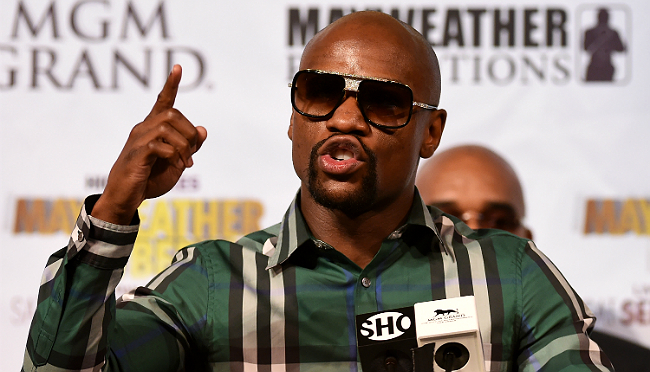 Floyd Mayweather's illustrious career is supposedly coming to an end this Saturday when he takes on Andre Berto in Las Vegas. If this truly is a career for Floyd (which it most likely isn't), he's going out with a whimper both at the box office and in the minds of the general public. Berto is a class or two below Floyd, and for $75 a pop, this fight is just too much of a mismatch to expect huge amounts of people to tune in.
Despite popular opinion, Floyd actually has an incredible resume behind him full of world champions and hall of fame talents he left in his wake. Sometimes, though, it's not who you fight, but when, and that's where most of the blemishes on Mayweather's resume reside. So yes, the complaints about his level of opposition are semi-validated. Floyd did eventually fight many of the fighters he's been accused of ducking, including Manny Pacquiao, but he didn't always look for the biggest challenge in front of him. Because of this, Floyd has a few duds on his record, so here are the five worst opponents of Floyd's world championship career.
Ricky Hatton
Ricky Hatton was an undefeated fan favorite with a stout resume who could talk almost as well as Mayweather. The only problem is that he was in the wrong weight class. Instead of fighting one of the many viable contenders at welterweight like Shane Mosley, Paul Williams, Antonio Margarito, Miguel Cotto or a even a rematch with Oscar De La Hoya, Floyd decided to look down to the super lightweight division seven pounds below him. Hatton was eventually outmatched and overpowered by the bigger man, and a year later, he got obliterated by a surging Filipino fighter by the name of Manny Pacquiao.
Besides the odd occurrence that was Mayweather vs. Victor Ortiz, this was Floyd's only stoppage victory since 2005.
Juan Manuel Marquez
Coming off a nearly two-year layoff, it made sense for Floyd to ease his way back into the sport, but nobody imagined it'd be this easy. Yes, Marquez is a hall of famer who gave Manny some of his toughest fights ever, but not only was he moving up two weight classes for the fight, but Floyd also decided to ignore the contracted catch weight that was in place to make this fight look like less of a farce.
Much like the Hatton fight, the problem here is that there were plenty of better options at welterweight for Floyd. Marquez was bloated, outclassed, and not even drinking his own urine could save him. The fight was little more than an exhibition, and Floyd even scored a rare knockdown early on.
Andre Berto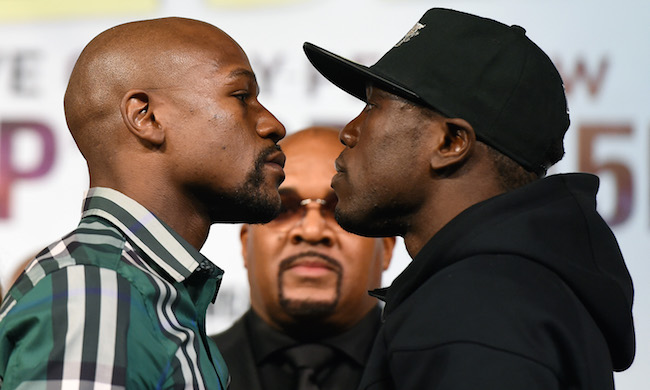 Make no mistake about it, this fight is a mismatch. That's why it's currently tanking at the box office, and that's why there's little to no buzz surrounding the bout. Floyd, even at his advanced age, is so far beyond the guys who battered Berto that they really don't have any business sharing a ring with one another. Floyd knocked out Victor Ortiz, who bum-rushed and obliterated Berto four years ago. He also outclassed Robert Guerrero, who bullied and punished Berto so bad that he earned a Floyd fight himself.
Arturo Gatti
The late Arturo Gatti is one of the most beloved fighters of the modern era. His moxie in the ring is the stuff of legend, and he's been involved in some of the greatest fights in the history of the sport. With that said, he didn't belong in the ring with Mayweather, and when their 2005 fight ended up a gross mismatch, nobody batted an eye because everybody had already expected that.
Carlos Baldomir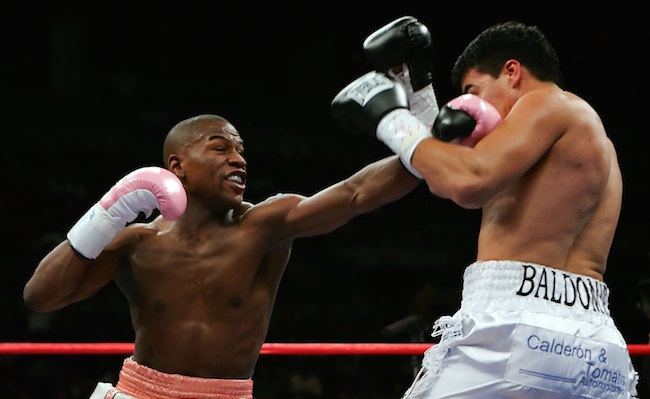 This is all Zab Judah's fault. Floyd and Zab were scheduled to meet up in a unification bout on pay-per-view, and all Zab had to do was beat the unheralded Argentinian Carlos Baldomir.
He didn't.
Eventually, Floyd and Zab did fight anyway, but after Floyd took care of business there, he moved on to Baldomir to snatch up the remaining welterweight titles. What proceeded was a near shutout on all three judges scorecards, as it was clear that Baldomir, the self-proclaimed Cinderella Man, was way out of his depth. Twelve boring rounds later, and Floyd had earned the hallowed lineal championship in the welterweight division.