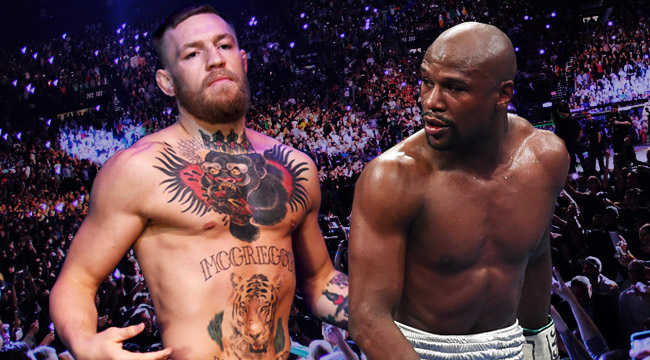 The game of hide and seek between Conor McGregor and Floyd Mayweather continues. Last week, McGregor flew to Las Vegas to try and make a face to face meeting with Mayweather happen. Instead, all he got to look at were social media postings from Floyd saying he was retired and for Conor to talk to the UFC if he was serious about making a fight happen.
"Floyd's a bitch and he's petrified," McGregor exclaimed to TMZ Sports. "I flew to Las Vegas and he didn't show his face. As soon as I touched down in Vegas, he retired twice. He retired twice!"
But now that the Irish UFC star has left Vegas for Los Angeles, it seems like Mayweather might be following him. The boxing pound for pound great was spotted in LA last night, and many are wondering whether this means the two are finally meeting, possibly with new UFC owner and WME-IMG agency head Ari Emanuel.
Though some still believe that this is nothing more than posturing between the two combat sports stars, the only hold up seems to be getting the UFC to agree to the fight. By all accounts, Floyd Mayweather is dead set on the match up, probably thinking it'll be the easiest hundred million plus dollars he's ever made. And McGregor is looking to add another zero onto his paychecks as well.
Negotiations are clearly ongoing behind closed doors between certain parties. Yesterday, UFC welterweight title contender Stephen Thompson revealed the state of things.
"My manager is Conor McGregor's manager," he said. "And it looks like the deal is almost done. It is getting closer and closer."
Whether we'll have to keep chasing McGregor and Mayweather for several more months as they chase each other is the only question. Let's hope this all gets figured out sooner rather than later.