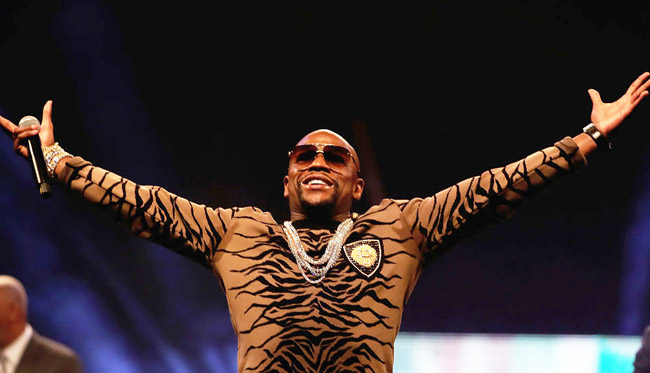 The Mayweather/McGregor World Tour has been a showcase of fight hype that eclipses most that we've seen in recent years. It's a spectacle, but it also isn't without a fair share of controversy. Conor McGregor courted plenty of criticism when he referred to Floyd Mayweather as "boy" during the opening stops on the fight tour and allegedly referring to the fighter as "monkey" while hyping the crowd off the mic. Even Mayweather said the comments "crossing the line," but soon dropped some comments of his own that would arguably be just as ugly.
The final tour stop in London featured Mayweather calling McGregor a "f*ggot" in an apparent attempt to even the scales with McGregor's racially charged language. According to TMZ, a representative for the Mayweather camp attempted to explain this with a statement, but not everybody was a fan:
"The reason Floyd called Conor the F word is because Conor called Floyd a monkey. Floyd has nothing against gays or lesbians at all … Floyd has them on his staff. Floyd has nothing but the utmost respect for gays and lesbians."
According to TMZ Sports, the LGBT group Athlete Ally has called out Mayweather and rejected the statement, calling it "troubling" while denouncing McGregor's comments too:
If Mayweather truly has the utmost respect for the LGBT community, he wouldn't resort to using slurs that perpetuate anti-LGBT stigma and hate."
Where feelings seem to differ is with Mayweather's opponent, Conor McGregor. According to MMA Junkie, the UFC champion doesn't see what the big deal is about Mayweather's choice of words and thinks the public is just a bunch of overly sensitive snowflakes:
"People are so touchy on words. It's absolutely crazy," McGregor said. "If he said that, I couldn't give a (expletive). I think what he was trying to do was to switch it up and get the people back in his favor. I think it was a bit of a (expletive) move to try and instigate that on me.

"Everyone with a sane mind that is watching knows what way it is. It is what it is. Some dirty tactics out there, but that's what to expect. The fight game is a ruthless business."
It's just how the fight game is, folks. You could say it's similar to Muhammad Ali calling Joe Frazier a gorilla ahead of their trio of memorable fights, but that might be giving both of these folks too much credit.
(Via TMZ Sports / MMA Junkie)