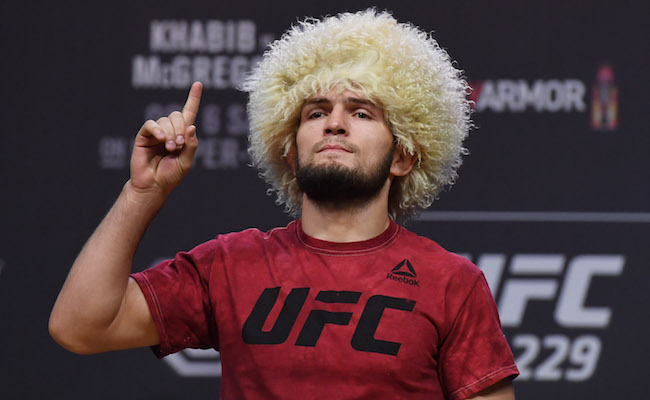 Khabib Nurmagomedov (27-0) is fresh off dispatching Conor McGregor for the lightweight title at UFC 229, and apparently he's not content with simply ruling the MMA world. The champ recently appeared in a video alongside Leonard Ellerbe, CEO of Mayweather promotions, calling out Floyd Mayweather (50-0) for a showdown between the unbeaten fighters.
Mayweather told TMZ they're "definitely" fighting and there's no doubt it would be in the boxing ring. But saying it's happening and actually getting a card together and making the money work is something else entirely.
UFC president Dana White, for his part, has since responded to the rampant speculation, per ESPN, where he took much of the same tone he did early on about the possibilities of a Mayweather-McGregor fight.
"Don't pay attention to it," White told ESPN. White says nothing has gone in motion, despite the retired-but-sometimes-unretired boxer saying it's a done deal.

"First of all, the Mayweather team has not approached us at all. Khabib is under contract with the UFC; we haven't talked to anybody from the Mayweather team. Floyd is very good at getting his name back out there when he's ready to."
White has previously talked up Mayweather making the jump to the Octagon, but it doesn't seem he's ready to make the drastic move after earning a TKO victory over McGregor in the crossover boxing showdown last year.
Nurmagomedov is under a temporary suspension while the Nevada State Athletic Commission reviews footage from his all-out melee against McGregor's camp at UFC 229, which could ultimately result in him being stripped of the title.
McGregor has already requested a rematch against Nurmagomedov, but a decision on who either fighter faces next won't be made until a decision is reached on their possible punishment. In other words, it's all a bit up in the air right now.