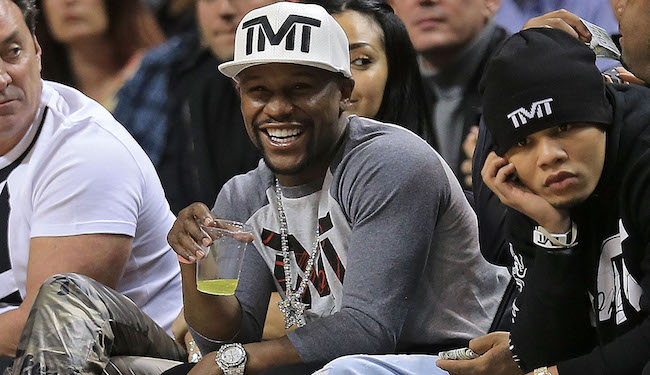 Floyd Mayweather Jr. makes an exorbitant amount of money, either from his fights, his ridiculously expensive gambling habit, and maybe even some from his awful clothing line. Floyd loves to spend that money as well on stuff like Bentleys for his friends, private Drake concerts for his kids, purses for his female friends, and of course strippers.
Floyd loves exotic dancers so much that he occasionally turns his house into a strip club or goes out to the club and throws tens of thousands of dollars into the air to show his, um, appreciation. Well, the jig is up, because now Floyd is looking to get some of that money back in the form of a tax break. The Daily Mail reports that the retired boxer sent a tax bill to Hustler Club in Las Vegas for the $20,000+ he spent in the club during one night in 2015.
The club's owner says the IRS will seek 40 percent of the bill, but he's refusing to pay because the money didn't go to the club. Instead, it went straight to the dancers after Floyd tossed the cash into the air. To make Floyd seem even more like the guy you're positive he is, he and his entourage of more than 20 people received free entrance into the club, a free VIP booth, and free bottle service. Mayweather didn't even bother to tip the waitresses who served them.
It may all be a misunderstanding, though, because Mayweather Promotions, LLC's tax attorney told The Daily Mail that the club may have received the tax forms on accident. If so, the company "would rectify the situation immediately."