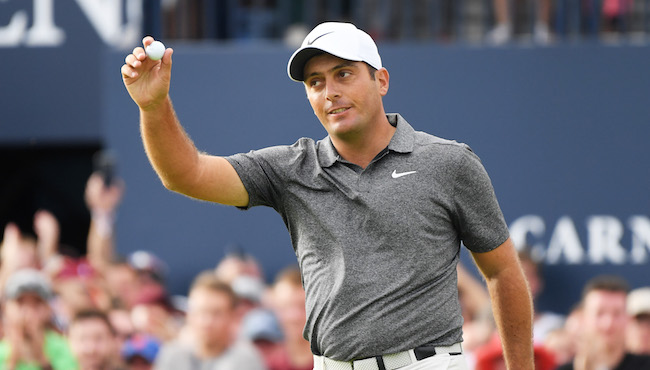 For a brief moment, it appeared Tiger Woods was going to officially be back and win the 2018 Open Championship at Carnoustie. Woods made the turn with a 2-under 34 and held the solo lead by one at 7-under. A vintage thrash at an iron out of the bunker at 10 only furthered the belief that this was his time, but two straight irons off the tee and into the rough leading to a bogey and double bogey at 11 and 12 dashed any hopes of the re-coronation of Tiger.
Behind Woods, the leaders entering Sunday's final round were busy imploding, as reigning champion Jordan Spieth lost his magic to the tune of a 5-over 76. Fellow co-leaders Kevin Kisner and Xander Schauffele each posted 3-over 74s, with Schauffele hanging around late before tapering off.
In the end, it was Woods' playing partner, Francesco Molinari, that earned his first career major championship with an incredibly impressive bogey-free 69 on Sunday to post 8-under and earn the win. Molinari made par on his first 13 holes of the day, before a two-putt birdie on the easy par-5 14th pushed him to red numbers. Three more pars brought him to the 18th tied for the lead with Schauffele, and the 35-year-old from Italy stuffed his approach to four feet, pouring in the birdie putt for the win.

The rest of the highlights for Molinari were of steady, solid play to scramble for pars, which on a day when the winds were howling at over 20 miles per hour was exactly what he needed while the rest of the field struggled.
Molinari became the first Italian to hoist the Clareet Jug, putting an exclamation point on one of the hottest summers in golf. Until that approach on 18, Molinari produced few roars around the course, letting Tiger, Rory McIlroy, Justin Rose, and others do that.

The bigger names on the leaderboard had rollercoaster rides all day, but none were able to hit their peaks at the right time on Sunday. Molinari carried himself admirably amid the chaos that comes with being paired with Tiger Woods, finding a way to march forward without so much as a single hiccup.