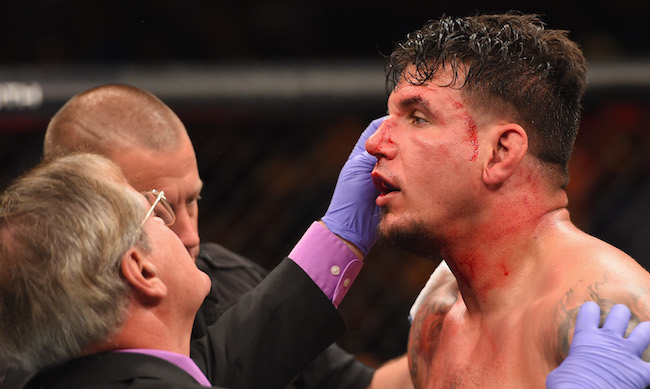 Javy "Eye Candy" Ayala snatched the biggest win of his MMA career at Bellator's "Salute to the Troops" event when the 265-pound heavyweight earned a rare submission via strikes against former UFC heavyweight champion Frank Mir.
Ayala (11-7) held off Mir (18-13) in a furious first round that saw the heavyweight contender use his ground game early and often, looking for an opening to submit Ayala during the transition to the floor.
In the second, Ayala cut Mir wide open and knocked out his mouthpiece before taking control of his opponent in the clinch and finishing the fight against the cage.
"When we were going through the exchange, I hit him a few times, I seen his mouthpiece come out," Ayala said, per MMA Junkie.
"I turned him on to the cage, I threw an elbow. I started throwing like punches and then I heard him say, 'Oh, my tooth came out.' And then (referee Joey) Beltran didn't do nothing, so I just kept hitting. I didn't want to stop and lose my position and then all of a sudden he started tapping, and I looked at Beltran like, 'He's tapping.'"
After the fight, co-host of the "Phone Booth Fighting" podcast with Mir, Richard Hunter noted Mir told him he had suffered an alveolar ridge fracture, which aids in tooth stabilization by encasing tooth roots.

The submission loss is the first of Mir's career 17-year career. Mir has lost four consecutive bouts, with his loss to Ayala coming after a TKO defeat at the hands of Fedor Emelianenko back in April.
Ayala snapped a two-fight losing streak after a decision loss to Roy Nelson and a first-round knockout at the hands of Cheick Kongo.