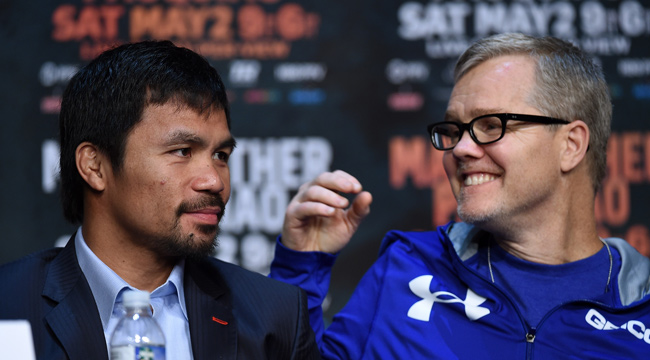 In the world of boxing, there are few people as universally respected as Freddie Roach. Through years of training the biggest stars of the sport, he's managed to keep his head above most of the drama and beef that constantly swirls outside the ring. And in the past several years, he's been bringing that lovable personality and knowledge of combat sports over to mixed martial arts as well.
He started his work with Georges St-Pierre, overhauling the wrestling-heavy Canadian's style and giving him one of the most devastating jabs in the UFC — just ask Josh Koscheck about it. He was never the same after Georges broke his orbital bone back in 2010. And now it sounds like Roach was instrumental in bridging the gap between Georges and the UFC so the two parties could work out a new deal.
Roach has known new UFC owner Ari Emanuel for decades and also has close ties to UFC president Dana White from their days in boxing. He added in CAA agent Nick Khan and together with Georges, they worked out a deal.
"We weren't looking to steal anyone away from anybody," Roach told Ariel Helwani on The MMA Hour. "We just wanted to make the best deal we could for Georges. I do train him quite a bit, and he is a great guy. He needed some help, and that's what we did. Georges was a little disappointed (before) because his people couldn't get the deal done, and couldn't negotiate the deal with Dana. I think there was a little 'dislike' there somewhere along the way. Me and Nick being neutral parties and having a good game plan, I think we pulled off a great deal for him. I think it was a very fair deal."
"It all worked out really well. At the end of the day, I think everyone was happy. I'm looking forward to getting Georges ready for these fights. I think it will be a lot of fun."
Georges may not be the only UFC superstar Roach ends up training soon. According to Freddie, Floyd Mayweather asked him to train up Conor McGregor if the boxing vs. MMA superfight between the two top names came together. Does Roach think that fight is really going to happen?
"According to Mayweather, yes," Freddie said. "He told me he would fight [McGregor]. Everything is pointing in that direction right now. At one point, I didn't think it was possible."
"I think it would take a long time for Conor to get ready for a boxing match, a pure boxing match. But ya know, one punch can change everything. It's the sport we're in. I'm not gonna count him out completely. I think Mayweather is the favorite, yes, but I wouldn't count anyone out. Because he throws, he throws hard and he's not afraid to throw."