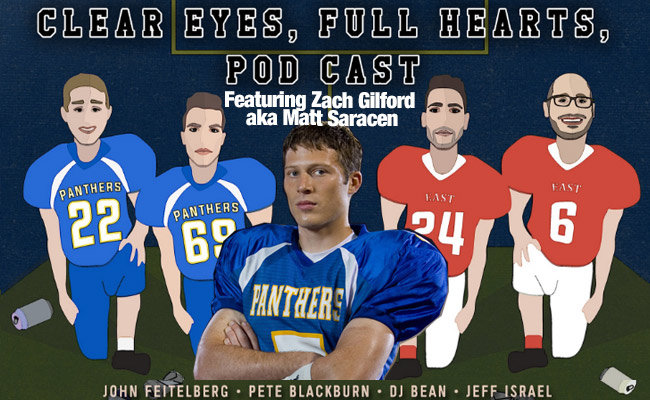 Friday Night Lights will celebrate the 10th anniversary of the show's premiere later this year, but a large portion of its cast is reuniting early at the the ATX Television Festival in Austin this weekend. With that in mind, this week seemed like as good a time as any to take a deep dive into remembering the show, which became somewhat of a cult classic during its five season run on NBC and, later, The 101 Network.
That's where the Clear Eyes, Full Hearts, Pod Cast series comes in. The five-part podcast series puts four FNL superfans in a room to discuss the show's characters and plot points in season-by-season roundtable format. From its beautiful, triumphant moments to the hilarious and infuriating imperfections, it's all broken down by myself, DJ Bean (WEEI), John Feitelberg (Barstool Sports) and Jeff Israel (Funny Internet Man.)
Some season one topics:
The Tim Riggins/Lyla Garrity relationship and who's more to blame
Matt Saracen's unlikely rise to stardom
Coach Taylor drawing inspiration from Bill Belichick
Is dating a coach's daughter acceptable?
Why Voodoo missed the mark as a villain
Drawing lines between being pro and anti-Lorraine Saracen
The magic of Jesse Plemons as Landry Clarke
Each episode also features an interview with a cast member from the show. For Part 1, we talked to Zach Gilford, who played the role of young Dillon Panthers quarterback Matt Saracen. (Interview starts at 1:07:00.) The awkward and unassuming Saracen is a central character of the show right from season one, when he's thrown into the fire after Dillon's star quarterback Jason Street left paralyzed during a game.
We talked to Gilford about his experience playing Saracen, his thoughts on certain storylines, and much more. We discussed how awkward it was to be a 23-year-old actor paired with a 16-year-old love interest on set, and he shared his feelings on the Saracen-Julie Taylor relationship as a whole.
Gilford will be one of the cast members heading to Austin for the reunion this weekend, and he'll also be teaming up with Taylor Kitsch (Tim Riggins), Minka Kelly (Lyla Garrity), and Aimee Teegarden (Julie) to run a Spartan Race together later this month as a part of a promotion with Marriott. He discusses his training for the race and looks ahead to the big reunion.
Season two will be discussed on Tuesday with another special guest. You can subscribe to the podcast on iTunes as well, and feedback is always appreciated.