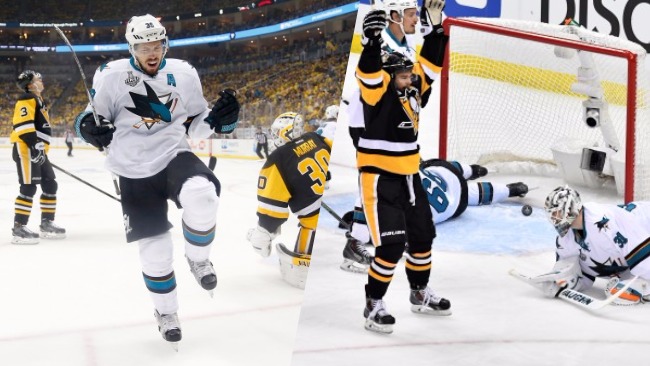 Hockey fans of Pittsburgh took to the city's streets very early in preparation of Thursday's Game 5 of the Stanley Cup Final. They were excited, and they had good reason to be — the Penguins were preparing to face the Sharks with a chance to clinch the Cup at home.
Once the game got started, that energy was quickly drained from the building thanks to two quick goals from the Sharks. Brent Burns kicked off the scoring just over a minute into the first period with this goal:
However, that was just the beginning, as Burns' goal set off the offensive explosion that fans have been waiting to see from the teams in this series. A few minutes after the opening tally, Logan Couture doubled San Jose's lead with this redirect in front.
It was the great start that the Sharks desperately needed as they looked to stave off elimination, but it didn't last. The Penguins answered with two quick goals — just 22 seconds apart — from Evgeni Malkin and Carl Hagelin, respectively. Those two tallies quickly brought the noise back to CONSOL.

All four goals came within the first 5:06 of the first period, creating for a totally insane start to what could be the final game of the NHL season.
Following that explosion of offense, a great feed from Couture helped set up a Melker Karlsson goal and reclaim a lead for the Sharks with just over five minutes left in the period.
Yeah, it was a pretty entertaining period of hockey.