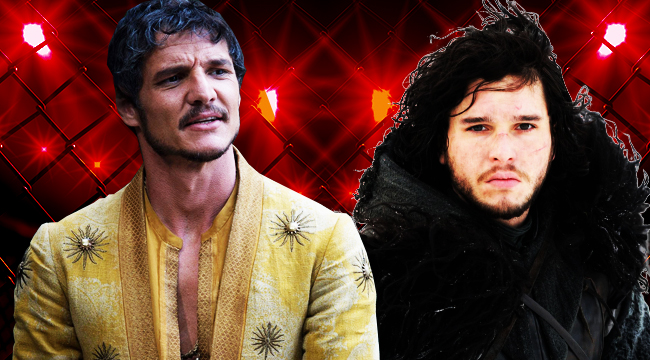 Nine weeks ago, we embarked on an epic, fisticuff-filled journey with a simple goal in mind: to determine which beloved character from Game of Thrones lore would emerge victorious in an MMA tournament reminiscent of the early UFC events. Battles were fought. Lives were lost. Up to four people commented on an article at a time. It was absolute madness.
And now, it's all come down to this. From a field of 32 warriors, we are down to the final two: Oberyn "The Viper" Martell and Jon "It's Not Incest If Neither Of Us Knows It's Incest" Snow. But before we get to the voting, let's take a deeper look at how each of our finalists got here.
Jon Snow
This probably shouldn't come as much of a surprise, being that Jon Snow is A) one of the only people from this tourney still alive on the show B) the true heir to the Iron Throne and C) a guy who has proven himself to be unkillable regardless of how short-sighted or plain moronic his actions are. Fighting out of the Winterfell Division, Snow (aka Aegon Targaryen) came out of the gate hot with a one-sided shellacking of Ramsey Bolton in their preliminary round rematch, utilizing his vicious ground and pound (see above) to put his former rival away for good.
In the Incestuous Sixteen, Snow was pitted against longtime friend/training partner Tormund Giantsbane, who I'm not sure if you know this, claimed to have once had nonconsensual sex with a bear. It was a long, back and forth fight, but like a basket of breadsticks at the Olive Garden, Snow just kept coming, eventually eeking out a split decision win over the Wildling and earning the right to face the Night King in the Entropic Eight.
A hard fought victory over the leader of the undead army followed (a preview of what's to come, perhaps?), as did a narrow win over Khal Drogo in the Fiery Four, setting the King of the North on a collision course with none other than…
Oberyn Martell
Now this, I did not see coming. Despite being absent for the show for some three seasons now after suffering a brutal defeat at the hands of Gregor "The Mountain" Clegane, Oberyn Martell has put together a comeback the likes of Dan Henderson vs. Mauricio Rua to make it to the big dance. It's the kind of redemption story that Jon Jones would raise a glass of cocaine and Cialis-laced HGH to while watching the last remnants of his once promising career fade into the ether like Marty Mcfly (too harsh?).
After breezing past Stannis Baratheon in his King's Landing Division preliminary contest, Martell put the boots to Sandor Clegane in his Incestuous Sixteen matchup, scored a come-from-behind victory over "The Mountain" after that, and then did the impossible in bringing an end to the cruel joke that was Wun Wun's placement in this tournament in the semifinals. (I'm so proud of you guys for that, by the way.)
So who will it be: The King in the North, or The Prince from Dorne? IIIIIIIIIIIITTTTTTT'S TIIIIIIMMMMEEEE!!!!!