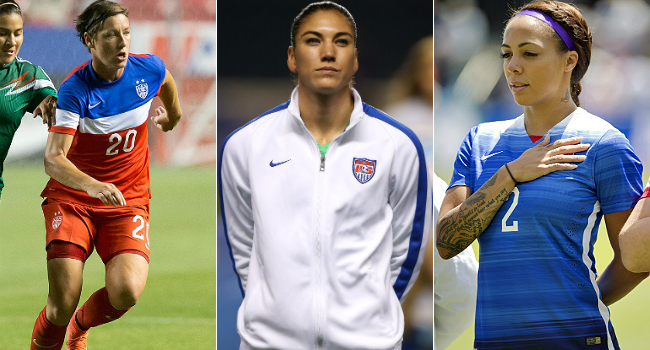 At 7:30 p.m. EST on Monday, the U.S. Women's National Team kicks off its pursuit of World Cup glory in Canada. It's a big deal, and you should watch it, if only to cheer for one of the best national teams the U.S. can offer in any sport. But what good is cheering for a team when you don't know what names to yell at the top of your lungs? Not much good at all. We're here to help with this handy primer for the entire squad.
Forwards: Abby Wambach, Alex Morgan, Sydney Leroux, Christen Press, Amy Rodriguez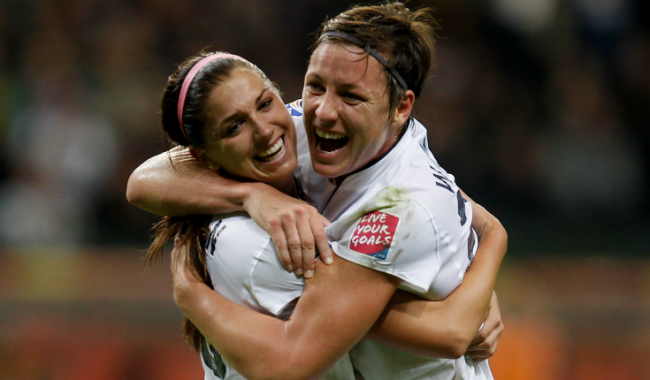 This is unquestionably, undoubtedly, unassailably the greatest set of attackers at the World Cup. All of them should get some playing time, but how much is still a mystery, considering the USWNT's coach, Jill Ellis, only likes to play two of them at a time. This will be Wambach's fourth World Cup, Rodriguez and Morgan's second, and Leroux and Press' first.You should know about Abby Wambach by now, but we covered her in our first World Cup preview here if you don't.
Alex Morgan was supposed to be the star of this team after she had some big moments at age 22 in the 2011 World Cup and a huge performance at the 2012 Olympics, but she's recovering from a serious knee injury, and hasn't played in nearly two months. If she's ready for the first game, she'll probably come off the bench (or start and be substituted early). That's a big shame because she's the most complete striker on the U.S. team. She's the one who scored two goals, including the game winner, in the U.S.'s all-time classic against Canada in the semifinals of the 2012 Olympics:
If Morgan is healthy, she's one of the favorites for the Golden Boot award (for best player at the World Cup). If she's not, it'll be up to some less well-known, but still very talented forwards to play alongside (and sometimes in relief of) the 35-year-old Wambach.Christen Press is slightly older than Alex Morgan, but she and Sydney Leroux have come into their own more recently, Leroux spectacularly so in a friendly against Mexico in May:
She makes a perfectly timed run, and the angle she shot that in from (at damn near a dead run) is just silly. She's a ruthless finisher, and stands to benefit the most if Morgan misses time or if Wambach just needs a breather because, yeah, she's amazing, but she's 35, so… you get what I'm saying.Press and Leroux are actually fairly similar players, both incredibly strong on the ball and with speed to burn. Watch Press humiliate France's back line in a friendly in March:
The thing is, neither they nor Amy Rodriguez have been finding the net often enough recently. Each of them has exactly one goal to their name this calendar year. Who gets playing time will probably depend on who scores the earliest and most often. Anyway, that's it for the glamour position. Now, let's take a look at the people who will really determine if the U.S. can win it all.
Midfield: Shannon Boxx, Morgan Brian, Tobin Heath, Lauren Holiday, Carli Lloyd, Heather O'Reilly, Megan Rapinoe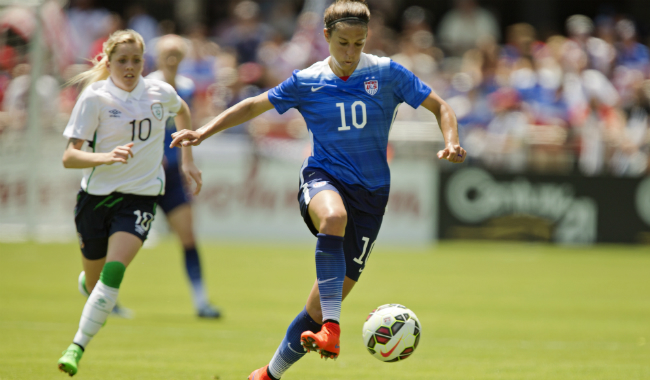 Again, the U.S. come into this tournament with an embarrassment of riches. Carli Lloyd is one of the captains of the team, and she scored the gold medal-winning goal in each of the last two Olympics. She's the most likely midfielder to score because she loves to take shots from outside the box, and we love her for it, even if she could stand to pass a teensy bit more (still love though). She'll also turn 33 right after the tournament, so this may be her last World Cup, as well. She'll be as essential as any one woman to the USWNT's success.
Even with Lloyd's skill, Megan Rapinoe may be the best ball-striker on the whole damn team. She scored the first goal in that Olympic semifinal on an olimpico, which is the amazing name for the amazing kind of goal when a ball goes straight in off a corner kick without any help. She also provided the inch-perfect cross that found Abby Wambach's head in the U.S.' equally-epic win over Brazil in the quarterfinals of the last World Cup:
Lloyd, who plays central midfield, and Rapinoe, who plays out wide, are the two players most likely to start every game in Ellis' unpredictable lineups. They're both vital, but Rapinoe might be the key to the USWNT's offense. She played in three of the team's four most recent matches, and in those in which she appeared, the U.S. averaged four goals. The match she sat out was the U.S.'s most recent, and they didn't manage a single goal.
Of the remaining mids, Shannon Boxx, Tobin Heath and Heather O'Reilly have appeared in at least one previous World Cup (Boxx, at 37 years old now, will be appearing in her fourth), with Morgan Brian and Lauren Holiday being the relative newcomers. Holiday is a talented attacker who'll be asked to play more defensively (being that all the talent in midfield and up top is for attacking, someone's gotta defend), with Boxx there as an emergency reserve.
Honestly, this group is pretty versatile if not the most solid at keeping the football, and Jill Ellis really hasn't settled publicly on a favorite option in the fourth spot besides Holiday, Lloyd and Rapinoe. The U.S.' group stage matches will be interesting for the geeks among us watching to figure out their best lineup, and if Ellis plays it.
Defense: Lori Chalupny, Whitney Engen, Julie Johnston, Meghan Klingenberg, Ali Krieger, Kelley O'Hara, Christie Rampone, Becky Sauerbrunn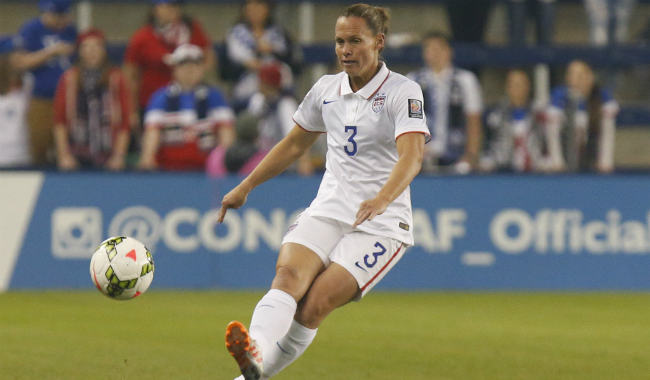 In soccer, the most important ingredient in a strong defense is chemistry. Defenders have to know each other well enough to trust that everyone will fulfill their responsibilities, and they have to communicate clearly and quickly, often too quick to use words. It's encouraging that Ellis seems to have settled on a back four that has played together a lot over the past few months — right back Ali Krieger and left back Meghan Klingenberg on the outside, and center backs Julie Johnston and Becky Sauerbrunn in the middle.
Krieger played every minute of the 2011 World Cup, but tore her ACL and MCL the year after and missed the 2012 Olympics. Post-injury and on the wrong side of 30, she'll depend on her strength and positioning to lock down the right side, and she probably won't do much attacking to avoid faster attackers getting behind her.
Klingenberg is faster than Krieger, and she'll push forward slightly more, but at 5-foot-2, she's undersized and won't be able to bully too many players off the ball. She'll probably stick to the sideline and rely on midfielders to win the ball back in most areas.
The center back duo of Johnston and Sauerbrunn has been rock solid in the lead-up to the World Cup, and should be a strength of the team. This will not be a side that gets scored on very often.The one substitute that really bears a mention is Christie Rampone. Center backs don't tend to get substituted on very often, so she may not see the field. You should hope she does, because that would make this her fifth World Cup appearance, which would tie Kristine Lilly for the most all-time by an American.
Rampone's the oldest American at this World Cup, at 39 years old (and she'll turn 40 during the tournament). It's remarkable that she's here, considering she's the last link between this team and the legendary 1999 World Cup squad. That's right, she was on the squad the last time the Americans hoisted this trophy, and it would be amazing to see her up there if the U.S. can reach the mountaintop again.
Goalies: Hope Solo, Ashlyn Harris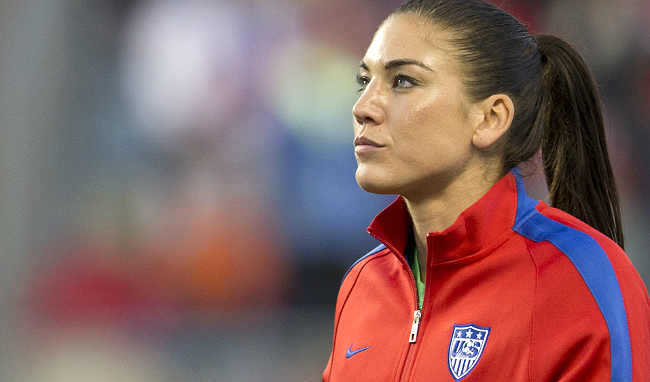 For all the ugly news off the field for now, Hope Solo is still one of the very best goalkeepers in the world. You'll see her fling her body around, make aggressive decisions most female goalkeepers don't make (she makes plays in traffic far more than her peers), and yell at her teammates if they screw up a defensive assignment… basically all of the things that make goalies great and fun to root for, if only she didn't make it so hard for us to root for her. Regardless, if she makes a World Cup-saving, um, save, all will be forgiven in the public eye, for better or worse.
I have no idea how good Ashlyn Harris is; I imagine she's very good, being on the USWNT and all, but if she plays, something has gone wrong.
Now that you've met the team, go forth and scream their names when they bring glory to our nation.