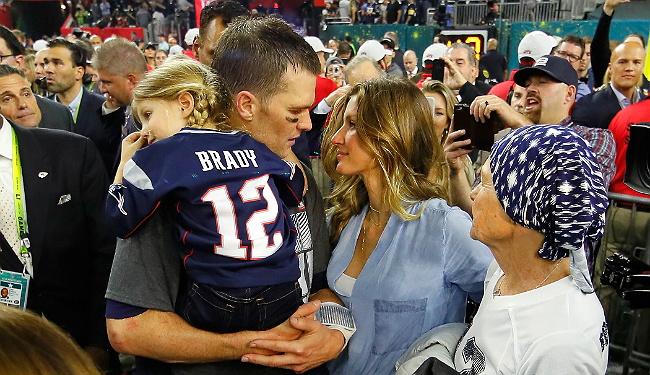 A lot of Patriots fans were psyched over the team winning its fifth Super Bowl. This is not a surprise because, well, winning Super Bowls is awesome.
Considering how the Patriots did it (a 25-point comeback to win in overtime) and the historical implications of Tom Brady and Bill Belichick winning their fifth Lombardi Trophies, Patriots nation was almost certainly fired up, especially after getting to boo Roger Goodell mercilessly.
Having acknowledged that, it's hard to imagine that anyone was more psyched than Gisele Bundchen. Watching from a box high above the stadium in Houston, Bundchen lost her mind after James White sealed the win with a rushing touchdown in overtime. Bundchen was on her cell phone, apparently taking a video of the entire thing.
https://twitter.com/KylePorterCBS/status/828444858864001024/
After the Pats got the win, Bundchen started communicating with someone who was down on the field. Her reaction was awesome.
Based on the fact that she was pointing at a person, screaming, holding up five fingers, and pounding on her chest, odds are she was trying to communicate with Brady. Regardless, it was super cool and a reminder that sports can turn anyone into a screaming fanatic, even if you're a Brazilian supermodel who starred alongside Jimmy Fallon and Queen Latifah in the 2004 film Taxi.