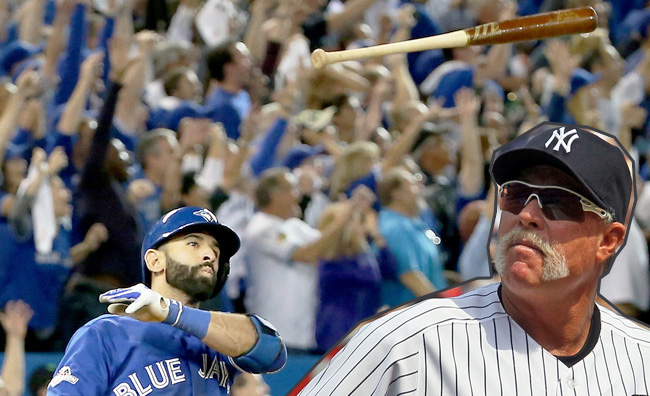 It was earlier that Bryce Harper came out to call baseball a "tired" game that is hampered by the many unwritten rules that seem to kill the fun the game could have. You knew it would rattle some chains in the baseball establishment, but it was really surprising to see the old guard addressing the issue so soon. What's not surprising is the tone that goes along with it.
Goose Gossage opened up with ESPN on the state of the game and his thoughts on the antics of players like Harper, Yoenis Cespedes, and Jose Bautista. The latter got the brunt of Gossage's criticism, with plenty of colorful language thrown into the mix:
"Bautista is a f—ing disgrace to the game," Gossage told ESPN. "He's embarrassing to all the Latin players, whoever played before him. Throwing his bat and acting like a fool, like all those guys in Toronto. [Yoenis] Cespedes, same thing."
He then went on to aim some of the blame at people he refers to as nerds, while essentially busting the dam and venting about everything that bothers him in the game:
"I'll tell you what has happened, these guys played rotisserie baseball at Harvard or wherever the f— they went, and they thought they figured the f—ing game out. They don't know s—.

"A bunch of f—ing nerds running the game. You can't slide into second base. You can't take out the f—ing catcher because [Buster] Posey was in the wrong position and they are going to change all the rules. You can't pitch inside anymore. I'd like to knock some of these f—ers on their ass and see how they would do against pitchers in the old days.

"Ryan Braun is a f—ing steroid user. He gets a standing ovation on Opening Day in Milwaukee. How do you explain that to your kid after throwing people under the bus and lying through his f—ing teeth? They don't have anyone passing the f—ing torch to these people.

"If I had acted like that, you don't go in that f—ing dugout. There are going to be 20 f—ing guys waiting for you."
He isn't exactly wrong, but he's also mixing a serious issue with one that is harmless to everybody but the old guard of Major League Baseball. The days of Bob Gibson taunting the opposing bullpen with a fastball in the ear is over, for good reason. The stories are fun to read and laugh about, but it's a different age with health being the top issue for sports as a whole.
Bautista responded to the comments and took the high road, opting to focus on Spring Training and the season ahead:
"He's a great ambassador for the game," Bautista told ESPN after being informed of Gossage's comments. "I don't agree with him. I'm disappointed that he made those comments, but I'm not going to get into it with him. I would never say anything about him, no matter what he said about me. I have too much good stuff to worry about his comments. Today is my first game [of the spring], getting ready for a new season; hopefully, we will whoop some more ass."
I would put myself in the nerd category of baseball fans, but I also like a guy like Goose Gossage. As much as I enjoy the bat flips and the fun aspects of the modern game, I love the old timers and the attitude from back then. Not only is this story a fun follow up to the Bryce Harper feature in ESPN the Magazine, it also gives us a chance to relive one of the greatest baseball outbursts in history. Goose Gossage knows his way around a curse word or two.