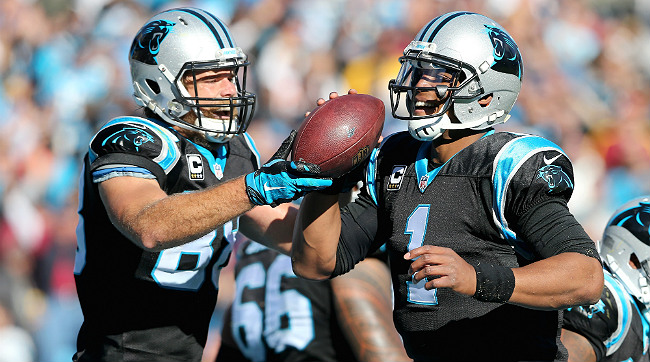 It's a good time to be a Carolina Panthers fan. The team is the last unbeaten in the NFL, quarterback Cam Newton is consistently making headlines for his dancing, his charitable efforts, his fashion, and how much dang fun he's having, and Carolina has one of the most dynamic defenses spearheaded by players like Luke Kuechly and Josh Norman.
But one player who's been here for a long time and seen the rise firsthand is Greg Olsen. Since being traded to the Panthers in 2011 by the Chicago Bears, Olsen established himself as a leader and a reliable receiving threat for Newton, who was drafted first overall that season out of Auburn after winning the 2010 Heisman Trophy.
Olsen firmly cemented himself as a member of the community, establishing his HEARTest Yard program and participating in other charitable efforts. Recently, he gave away $9,000 worth of gift cards to patrons of a Charlotte-area Buffalo Wild Wings, and the restaurant chain donated $1 to Olsen's charity for every RT on a particular tweet sent out on Dec. 15.
Uproxx Sports took a few minutes to talk to Olsen about being the last unbeaten, playing with Cam Newton, living in Charlotte, and more.
Martin Rickman: I'm a Charlotte resident, as well, and I was talking to a server in town who has seen you come in and eat a bunch. He said it's always pretty low key, and people tend to leave you be. I was curious, is this unique to Charlotte? What's your typical interaction with fans like here?
Greg Olsen: I think people are pretty respectful of my time. They'll come over and say hello, but it's always positive. Most of the time they'll come over and say, "Good luck." "We're really enjoying the season." "We watch every game." Stuff like that. It's nice to have that sort of response and see that from the fans. I understand that this season means a lot to a lot of different people, and it's been a great time for the entire city. People are very respectful. I'll take some pictures, talk to kids, and it's nice to see the kids excited, and see their parents so excited. It's been nothing but positive.