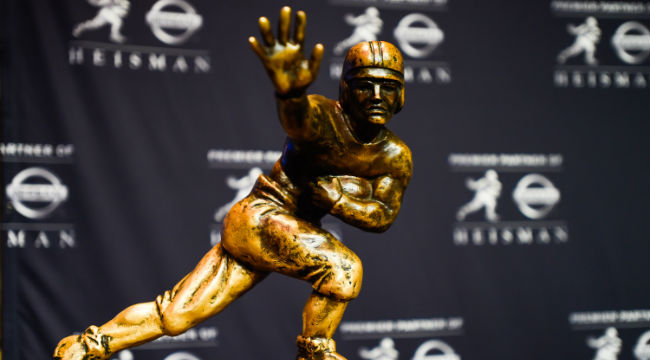 The list of finalists for this year's Heisman Trophy could have included 10 players, and there still would have been a guy or two who people would argue got snubbed. That's a testament to how many excellent college football players there were in 2015 – there wasn't one guy who seemed like a no-brainer choice for the sport's highest individual award, but rather, there were a bunch of really good guys who all had a solid case.
Ultimately, it was decided that three guys would go to New York City for the Heisman ceremony: Alabama running back Derrick Henry, Stanford running back/return man Christian McCaffery, and Clemson quarterback Deshaun Watson.
No one will argue that those three don't represent some of the best players in the country this year. Watson is quite possibly the best quarterback in the nation, McCaffery's ability to impact the game in a bunch of different ways is unparalleled, and Henry is a workhorse who leads the nation in carries, rushing yards, and rushing touchdowns this season.
All three are outstanding athletes…but there's a problem. With only three guys going to New York, there are a ton of players who deserve to be in the conversation but aren't making the trip, which led to a ton of outrage on Twitter. Here's a sample of the anger over a few of the game's best players getting "snubbed."
LSU Running Back Leonard Fournette
Florida State Running Back Dalvin Cook
Oklahoma Quarterback Baker Mayfield
Navy Quarterback Keenan Reynolds
Ohio State Running Back Ezekiel Elliot
TCU Quarterback Trevone Boykin
Again, you can argue that the list of people who deserved to go to New York should have included way more than three people, and in all honesty, you'd probably be right. But the three guys who are going are all outstanding, and any one of them would be an excellent recipient of the Heisman. We'll find out if Henry, McCaffrey, or Watson is named the nation's best player on Saturday night.