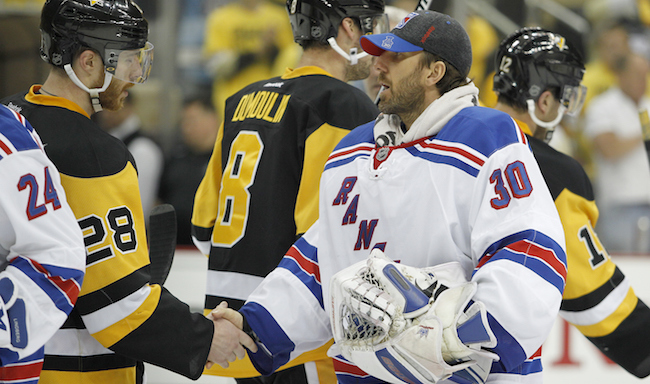 Another year, another NHL season ending in sadness for Henrik Lundqvist, a guy who deserves better.
The New York Rangers were eliminated from the playoffs on Saturday night, losing to the Penguins 6-3 in Game 5 and dropping their first round series to Pittsburgh four games to one. Lundqvist, the Rangers netminder, was pulled from his post between the pipes in both Games 4 and 5, but let there be no mistake — his team let him down, not the other way around.
It's a storyline that's become all too familiar for Lundqvist, who just turned 34 last month and is still in search of his first Stanley Cup ring. The closest he's come to raising the Cup was in 2014, when the Rangers advanced to the SCF and ultimately lost to the Los Angeles Kings in five games.
With Lundqvist exiting the prime years of his career, the Rangers have grown more and more desperate to put together a winning team in front of him. They've surrendered valuable future assets to acquire major pieces around the mid-season trade deadline in three consecutive seasons (Martin St. Louis in '14, Keith Yandle in '15, and Eric Staal in '16). That's not necessarily a bad approach considering The Lundqvist Window is closing and it's a good idea to go for it while you employ one of the league's premier goaltenders.
The problem is, the Rangers continue to fail him. And, yet, Lundqvist continues to be the face of the blame for their failures.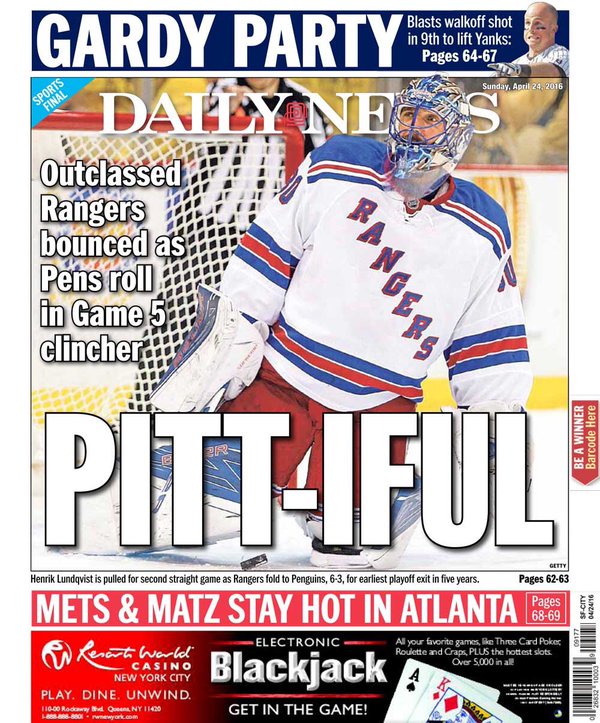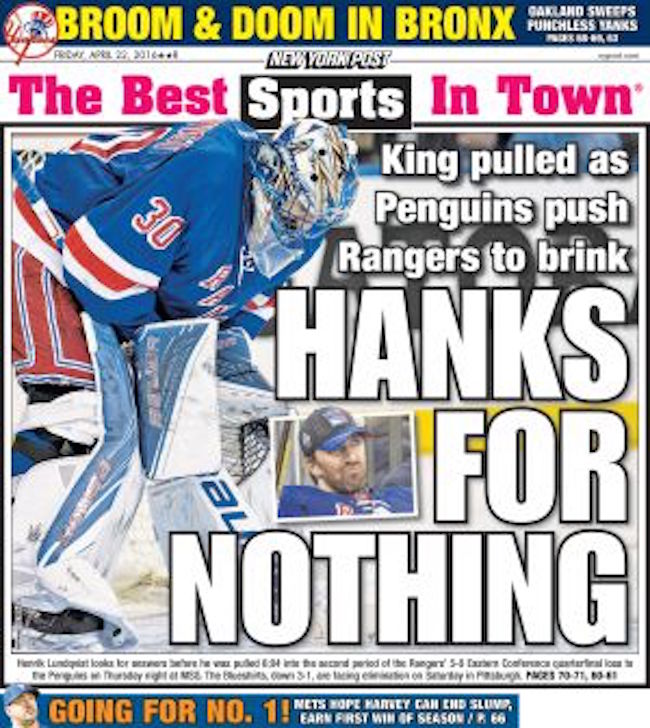 Sure, Lundqvist didn't have his best showing in the postseason. In addition to getting yanked in the series' final two games, he also missed a portion of Game 1 after suffering an eye injury. In the end, he finished the series with an .867 save percentage and a 4.39 goals against average, both absolutely atrocious numbers for an NHL netminder. He did not play well, and Lundqvist himself will be the first person to tell you that he should have been better.
But, again, making him a poster boy for the team's failures is lazy, cheap, and incredibly stupid.
The Rangers were completely outplayed by the Penguins in almost every facet of the game. The most glaring inadequacy came in the form of a horrendous defensive unit that was basically rendered completely useless by a talented, high-powered and quick offensive attack from the Pens.
The Rangers blueliners were far too slow to beat Pittsburgh players to loose pucks or make recoveries when they needed to.


The Penguins put a ton of pressure on New York's defensemen, who just couldn't handle it. They showed an inability to move the puck, whether it be in the offensive or defensive zone, and that led to a number of gifted opportunities that were taken advantage of.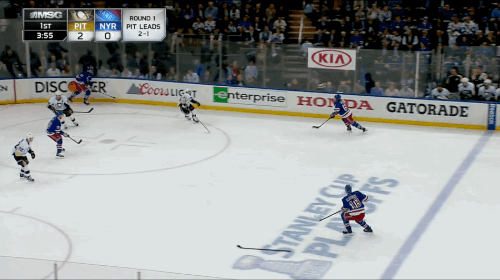 They were just bad.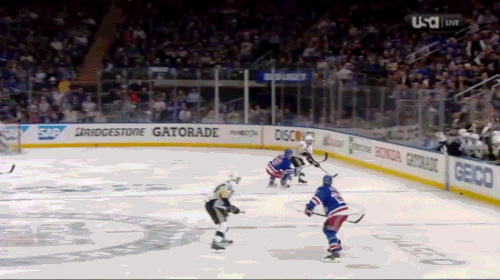 Lundqvist was essentially left on an island and asked to handle an insane, unfair workload. It was a disaster, but it wasn't foreign.
The Rangers have dealt with defensive issues all season long that should have been seen coming. The team is attached to aging, declining defensemen that they've been far too loyal to with both ice time and dollars. For a team that isn't afraid to mortgage the future to win now, they sure have done a great job at allocating their resources into the wrong places. What they brought into 2015-2016 on the back end was never going to be good enough to contend for a Cup, but there was confidence that Lundqvist could be Lundqvist — a goalie good enough to compensate for what was in front of him.
And, to his credit, for a while he was. The Rangers finished the regular season with 101 points; a good season on paper. Lundqvist had his seventh straight season with a save percentage of .920 or higher, despite New York being one of the worst possession teams in the league this year. When Lundqvist wasn't his typical self, the team was rarely good enough to win despite him. They were only ever going to go as far as he could carry them.
As we've seen so many times, a playoff series is where fatal flaws get exposed. Any weaknesses that have managed to be veiled over the course of the regular season will typically manifest in a best-of-seven series against the league's top talent.
In the end, the Penguins were too much. Not only was Lundqvist not good enough to make the Rangers' defense look passable, the Rangers' defense was so bad that they actually made Lundqvist look bad too.
As a result, hockey fans were forced to watch Hank have his heart and spirit slowly broken in the postseason once again. At this point, it seems like isolated shots of a dejected Lundqvist laying on the ice in the glow of a red goal light — or sitting on the bench after being mercifully pulled — are becoming a yearly springtime tradition. The Rangers continue to waste the the prime years of his incredible career, and that's thanks to a consistent organizational failure to put the right pieces around him.
At this point, the only people who look worse than the front office tasked with helping Lundqvist raise his first Cup are the people who blame him for not being able to do it all by himself.