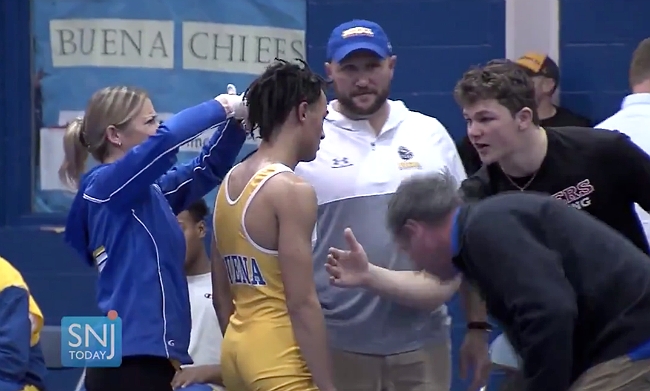 A high school wrestler was forced to have his dreadlocks cut off to avoid a forfeit in a New Jersey high school tournament. The story may be one of team unity or a racially-charged incident where a teenager was unfairly targeted by a referee with a troubled history of racism.
Buena Regional High School had a meet with Oakcrest High on Wednesday, and wrestler Andrew Johnson had his hair covered before his 120-pound match against an Oakcrest opponent. But the referee, Alan Maloney, said that Johnson's hair would not work. According to SNH Today, Johnson was given an ultimatum: Either he had to cut his hair or forfeit.
The journalist who captured footage of Johnson getting his dreadlocks frantically cut off called him a "team player," but many pointed out that the referee who made him ruin his haircut has a history of trouble.
Teammates tried to pump Johnson up for taking one for the team to help them win, but the poor kid is clearly upset here. Johnson won his match, 4-2, and helped Buena Regional get the win, but there's a lot more than just a ref being strict going on here.
As Mark Trible of the Courier-Post notes, Maloney reportedly used the n-word in an argument with another referee in 2016.
Over a disagreement about homemade wine, said Preston Hamilton, who is African American, fellow referee Alan Maloney poked his finger in his chest and hurled the epithet.

Maloney told the Courier-Post he does not remember using the word at all, let alone directing it at Hamilton, but believes the accounts of witnesses who told him he said the word.

Hamilton told the Courier-Post he responded by slamming Maloney, who is white, to the ground.
Both referees were suspended a year for the incident, but those suspensions were overturned after a lengthy appeal process. Maloney claimed that he apologized for the matter and that they had both moved on.
"You know, people do make mistakes and I apologized," Maloney told the Courier-Post. "I really don't think this should go any further than it's gone anyhow. … The remark was not made to him. After he told me what I said, it was pertaining to us breaking each other's stones. … I didn't remember it. I was told it. I believed it and said, 'Yo, that ain't me.' That's when I called him right away and that's when he told me we were good."
The now-viral incident with Johnson and forcing a teenager to cut off his dreadlocks, however, has cast that incident and the "team player" move the wrestler was forced to make in new light. Maloney, still allowed to be an authority figure around minors — especially people of color — seems to have found another way to get into trouble once again.