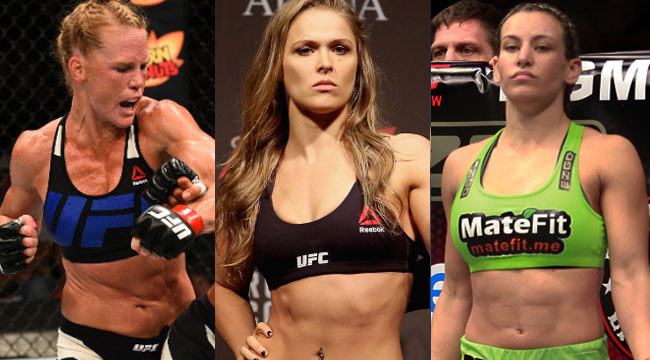 Mike Winkeljohn has been with Holly Holm since the beginning when Holm joined one of his cardio-kickboxing classes in the late '90s. Over the years Winkeljohn became one of the most sought after striking coaches in mixed martial arts and Holm developed into a multiple boxing champ. Now she's the UFC women's bantamweight champ after knocking Ronda Rousey out with a headkick, and he couldn't be prouder. Via The Mirror:
'It was the best moment of my coaching career. I have been working with Holly for 17 years, she's very close with my family, I taught her to throw her first punch so to see her win was a big moment for me.'
As for what he wants next for his star pupil, Winkeljohn sounded like he wasn't interested in waiting around for a Ronda Rousey rematch:
'It will be a long road back for Ronda, I think she needs to get a lot of gym time in and really focus on her boxing skills because she's really missing in that area. To be honest I don't see a rematch being much different to the first fight, I think Holly is evolving and getting even better every day so I think Holly would be very comfortable in a rematch and Holly would be victorious. In regards to who Holly should fight next, that's Holly's decision, but I think Miesha Tate deserves a chance, I think that makes the most sense.'
It's an interesting perspective and one that seems to be shared by more and more people as time goes on. The UFC obviously has a vested interest in making the rematch happen – Rousey vs. Holm 2 would be an even bigger fight than the first, and that one was the most attended UFC fight in the promotion's history. But a second loss to Holm would be devestating for Rousey's career, and many are thinking the former Olympic judo medalist wouldn't be able to train up in time for a theoretical rematch at UFC 200 in July 2016.
Holm herself has said she wants to keep busy and fight again soon. Another fight in April against a name like Miesha Tate could be just the solution. But the UFC hates potentially screwing up a big money fight when they don't have to. The last three years have been clusterf*cks of non-stop injuries suffered by fighters in training. Another camp for Holly increases the possibility of that.
And that's not even touching on the mess it makes of the division if Holm loses to Tate, whose wrestling skillset could cause trouble for the boxing champ. In mixed martial arts, styles make fights. Ronda might have known just enough about boxing to make her predictable to Holm. Miesha Tate on the other hand is an unorthodox brawler with strong takedowns. Long story short, it's a high risk proposition. The UFC may prefer to keep Holm on the shelf until UFC 200. Unless Ronda Rousey agrees with Mike Winkeljohn's assessment of the situation. Then all bets are off on what's next.