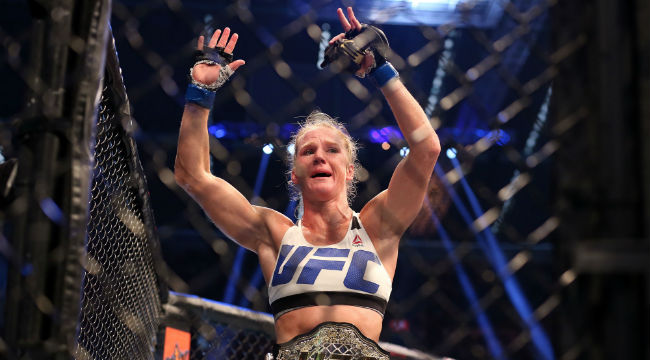 Could we see Holm-Rousey II in the future? According to Holly Holm and Dana White, a rematch between the new UFC women's bantamweight champion and Ronda Rousey "makes sense."
Holm shocked the world on Saturday night when she became the first woman in UFC to take out Rousey. It seemed like Holm was in control for the entire match, all the way up until her kick to Rousey's head that knocked the champion out for the biggest upset in UFC history.
After the fight, Holm expressed her desire for a rematch with Rousey:
"I think a rematch makes sense for sure. I've been on a losing side of a fight and I wanted the rematch; I wanted to avenge my loss," Holm said. "With a champion like Ronda who has gone out of her way, above and beyond to do great things, absolutely she deserves a rematch.

"I don't look at this belt and think I made it; I still think I have things that I need to do. I think a rematch, that's kind of like unspoken — just common sense to me I guess."
This sentiment was shared by White, who also mentioned that this result throws a wrinkle in some of the plans that he had for Rousey going forward:
"Obviously we don't make fights the night of the fight, but the rematch makes a lot of sense," White said at the post-fight press conference. "I think the rematch is what people would want to see. [Holm's victory] changes a lot of things; the Cyborg fight, some other stuff we were working on."
Rousey said prior to the fight that she would like to "disappear for a while" and wait until UFC 200 to fight again. If that ends up happening, we may be in for a rematch with Holm on July 9, 2016 in Las Vegas.
(via Sherdog)