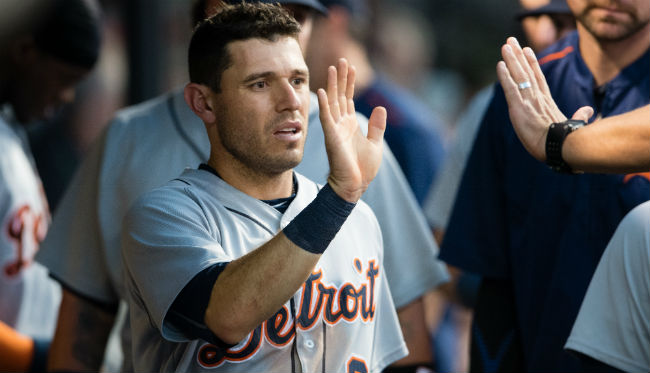 If you're excited about Team USA's recent run in the World Baseball Classic, Ian Kinsler is here to temper those good vibes.
Kinsler had some thoughts about "playing the game the right way" in a New York Times article about how much fun the tournament has been to watch.
A lot of that fun has come from Team USA's run to the finals, but a big part of it is the atmosphere and flair other teams have shown in the games. Most of that fun, of course, is coming from the other teams in the tourney.
But Kinsler says the Puerto Rican and Dominican players are doing a bit too much showing off in these international exhibition games for his liking. He hopes it doesn't hurt the youths of America.
"I hope kids watching the W.B.C. can watch the way we play the game and appreciate the way we play the game as opposed to the way Puerto Rico plays or the Dominican plays," Kinsler said. "That's not taking anything away from them. That just wasn't the way we were raised. They were raised differently and to show emotion and passion when you play. We do show emotion; we do show passion. But we just do it in a different way."
That's right, it's about the kids. But tell me, Ian, how exactly does one show "passion" and "emotion" the right way again? Because when you get into discussions like this it often comes down to a pretty coded conversation about how the "other" simply doesn't do things the right way.
All of this falls in line with the classic baseball rhetoric that you shouldn't show up a pitcher on a home run, and you need to show "respect" for the game. But running out every grounder and respecting your elders is obviously more important than actually having any fun out there. Because here's the thing: the tournament's atmosphere has been great. In fact, one of Kinsler's own teammates said he's loved pitching in games that feel like they matter in March.
"I've played in a lot of playoff games, and I think this is better," said reliever Pat Neshek, who retired the Japanese slugger Yoshitomo Tsutsugoh on a fly ball with two runners aboard to end the eighth inning. "Of course, it's March, which is crazy. You're trying to get ready for the season."
The swagger and excitement they've seen on the field directly impacts what's happening in the crowd, of course. But there's a much easier rebuke of Kinsler to be had, and Christian Colon has it.
Hard to argue with that.