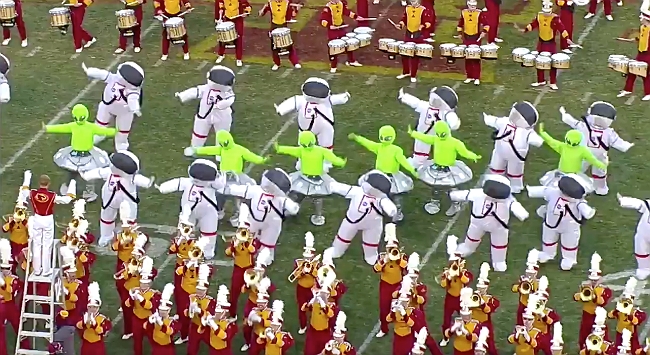 Space Jam is a movie about many things. It's about friendship, first and foremost, especially inner-dimensional friendships between cartoon characters and NBA legends.
What is is not about, unfortunately, is the difficulties of space travel and the miraculous engineering accomplishments of NASA. It is also not about extra terrestrials. But those are all related to space, which is why Iowa State had astronauts and aliens dance around to the Space Jam theme song on Saturday.
Iowa State played Baylor on Saturday, and the Cyclones' halftime band brought out another nostalgia banger from the 1990s. After taking the Internet by storm by having inflatable raptors frolic about while they played the theme to Jurassic Park, the Cyclones diversified their inflatable costume collection and tackled another classic: Space Jam.
There are plenty of aliens in Space Jam, but not of the flying saucer type represented in the middle of the field during halftime here. Still, it's pretty funny to see aliens and astronauts in space walking suits strut across the field and do their jam. The best part is when the song ends and everyone ends up on the turf. It just looks so odd it's weirdly right.
All these years later, the song is wholly ridiculous. Which is why Iowa State embracing these inflatable costumes and having some fun is very much appreciated. There are only a few more chances left this year to reference 90s movies with good theme songs. Better get to practicing.