Major League Baseball celebrated Jackie Robinson Day for the 13th time on Saturday. If you tuned into a baseball game, you saw ample evidence on the back of every player, coach, and manager as they donned Robinson's number 42, which has been retired league-wide (save for a few grandfathered cases that have all since retired) since 1997.
Announcers spoke about how Robinson broke the color barrier when he first suited up for the Dodgers 70 years ago. They mentioned his grace and perseverance as he endured the heinous trials that came with that accomplishment and his blazing on-field talent. And they played clips of current players paying tribute and discussing Robinson's impact on them. Only three people – coaches Gene Lamont (Tigers), Larry Bowa (Phillies), and Davey Lopes (Nationals) – who were on the field on Saturday were even alive when Robinson played his first game.
The impact of history can be lost on younger generations as society moves forward, but Robinson and his achievements clearly have staying power. They also have the ability to remind us of other trailblazers.
Dan Bankhead is a name few people know. He was briefly Robinson's teammate in that 1947 season, and he was also the first black man to throw a pitch in the modern Major League era. Unfortunately, he didn't have much of a career. The 1947 season was light on accomplishments and he spent the next two seasons in the minors before making a brief comeback with the Brooklyn Dodgers.
According to remarks made by former Negro League star Buck O'Neil in Joe Posnanski's The Soul Of Baseball (via the New York Times), Bankhead's issues stemmed from fear. Specifically that he would hit a white batter and spark a "riot."
"Dan was always from Alabama, you know what I mean? He heard all those people calling him names, making those threats, and he was scared. He'd seen black men get lynched."
Larry Doby was an infielder-outfielder for the Cleveland Indians, Chicago White Sox, and Detroit Tigers who went to seven All-Star games, led the league in home runs twice, and hit 253 over the course of his 13-year career. He was the second black baseball player in the modern era, following Robinson by a few months in 1947, though he struggled through his rookie year while Robinson took the league by storm.
"It was 11 weeks between the time Jackie Robinson and I came into the majors. I can't see how things were any different for me than they were for him," said Doby, who died in 2003.
In 1978, Doby became baseball's second black manager, following Frank Robinson, who led the Indians from 1975 to 1977 and later managed the San Francisco Giants, Baltimore Orioles, Montreal Expos, and Washington Nationals in a career that totaled parts of 16 seasons ranging from 1975 to 2006.
Bill Lucas didn't have the official title of General Manager, working instead as the director of player personnel, but he is thought of as baseball's first black GM for his time running the Atlanta Braves from 1976 to his death from a brain hemorrhage in 1979. Bob Watson was the second black GM, though he didn't get that job until 1993 with the Houston Astros.
These men are all modern day pioneers, but we'd be remiss if we didn't point out a few others that you should read up on. Bud Fowler was the first black professional baseball player, making his debut in 1878. Moses Fleetwood Walker broke the color barrier in the American Association in 1884, which MLB.com says was "the majors in its day".
Rube Foster was a great pitcher, but his impact on the game can be measured more for what he did as a manager and as an organizer. The Baseball Hall Of Fame calls him "The Father Of Black Baseball" for his role as the founder of the Negro National League. Willie Wells is another name you should know. Like so many other great ballplayers, he was a Negro League great who was born about 20 years too early to get the kind of opportunity that Jackie Robinson did.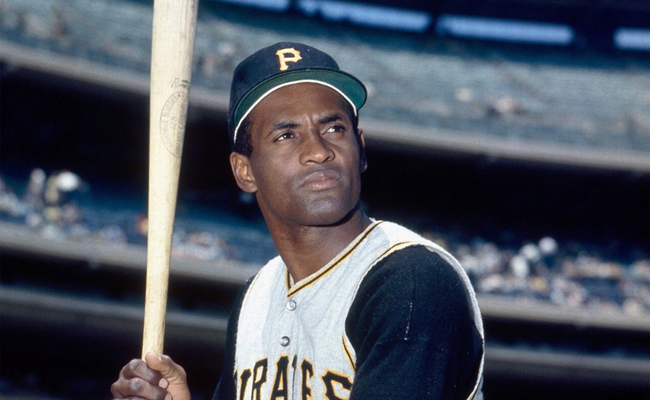 Puerto Rican-born Roberto Clemente debuted with the Pittsburgh Pirates in 1955 and went on to have a historic career as one of baseball's first latino stars, accumulating 3,000 hits before his tragic death in a plane crash while delivering relief supplies to Nicaraguan earthquake victims. Because of Clemente's impact and all those that he inspired (in Puerto Rico, across Latin America, and in the states), some have called for the league (which has celebrated Roberto Clemente Day since 2002) to echo its tribute to Robinson and retire Clemente's number 21 league wide.
Esteban "Steve" Bellán debuted in the National Association in 1871, the first latin-born player to do so. Later, he went home to Cuba and grew the game from the dirt up, cementing his status as a pioneer. Lou Castro was the first latino (and first Colombian-born player) to play in the modern version of the Major Leagues when he debuted in 1902 with the Philadelphia A's. Cuban-born players Rafael Almeida and Armando Marsans followed shortly thereafter in 1911, allowed to play only because they were light-skinned, which is how baseball operated in terms of Latin-born players at the time. Yet despite that incredibly minuscule bit of inclusiveness, there was still controversy.
Marsáns and Almeida were the first Cubans to reach the majors since 1873, and there were whispers around baseball that they had some "Negro" blood. The Reds rejected this at length, calling Marsáns and Almeida "two of the purest bars of Castilian soap ever floated to these shores," and insisting that they were entirely of European descent.
Chuck Cooper, was the first black basketball player drafted by an NBA team, the Boston Celtics, in 1950. Which is ironic in that the Boston Red Sox were baseball's last team to integrate when Pumpsie Green made his debut 12 years after Jackie Robinson's first at-bat. Though Cooper got drafted first, Earl Lloyd (whose story we profiled recently) was the first black man to play in the NBA, beating Cooper by one day at the start of that 1950 season. Nat "Sweetwater" Clifton soon followed, as did Hank DeZonie.
Bill Russell followed in 1956, becoming one of the game's all-time greats before becoming basketball's first black coach when he became player/coach of the Celtics in 1966. These barrier busters were all preceded by Harry Lew, who was the first black pro basketball player when he played in the New England Basketball League in 1902.
Charles W. Follis was the first black professional football player in 1902 (according to the Los Angeles Sentinal, one of his teammates was Branch Ricky, the eventual general manager of the Brooklyn Dodgers and the man who would sign Robinson and Bankhead), but Bobby Marshall and Fritz Pollard hold the distinction of being the first two black NFL players. Both men debuted (along with the league) in 1920 and Pollard became a player/coach in 1921.
Unfortunately, the league moved away from inclusiveness in the mid 20s, 30s, and early 40s before Kenny Washington and Woody Strode came in with the Los Angelas Rams in 1946. Art Shell made his debut as a lineman for the Oakland Raiders in 1968 and became the head coach of the team in 1989 — the first black man to coach an NFL team since Pollard in 1921.
In these sports (and in society, on the whole) these victories matter and these heroes should be celebrated, but there is so much more that needs to be done. The woeful diversity record in all major sports when it comes to hiring coaches and executives (not to mention the owner's box) is one example, but it goes beyond race.
Glenn Burke was an openly gay baseball player who endured slurs from manager Billy Martin, got traded because of what he suspected was homophobia, and basically got driven out of the game. This isn't a story from the 1940s, it's from the late 1970s. And despite the broad acceptance of Jason Collins as the NBA's first openly gay player and Michael Sam as the NFL's first openly gay draftee, there were enough whispers and controversial statements to make it clear that we're still not in a place of total acceptance where the only thing athletes are judged by is the content of their character and what they do on the field.
And until that happens, the fight continues. The spirit of that fight is a big part of Jackie Robinson's legacy, and one we should celebrate and keep in mind every day of the year.