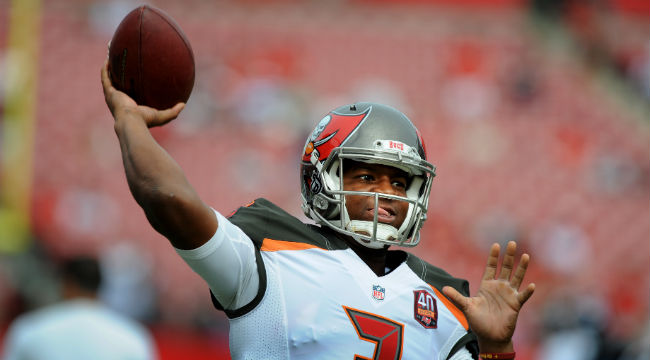 It's been nearly three years since the alleged sexual assault against now Tampa Bay Buccaneers quarterback Jameis Winston was reported to police by Erica Kinsman, and just now the Tallahassee Police involved in the case are admitting their mistakes in the investigation.
USA Today went through the 199-page deposition released by officer Scott Angulo, and in it, Angulo admitted that there were further steps that should have been taken in between the time of the alleged assault and Kinsman identifying Winston after she saw him in a class.
Angulo said he did not try to speak to Clayton Fallis, the FSUPD officer who was the first to respond. He said he tried to track down the cab driver who drove Winston, Kinsman and two other football players from the bar to Winston's apartment, but it was "sporadic at best" to identify cabs by GPS and that use of FSU cards "didn't help any." After that, the cab company sent out an email to see if anyone recalled anything.

Angulo acknowledged not trying to get surveillance video from Potbelly's, saying that it "absolutely" should have been done.

"I relied on other people's information that Potbelly's does not record," Angulo said. "And that is — they all knew, I made that mistake. If they do record."
In addition, Angulo admitted that he did not seek out eyewitnesses at the bar where Kinsman had been before the alleged assault took place, one of which was Chris Casher, Winston's roommate.
Although he admitted mistakes in the investigation, Angulo stated that during the time of the investigation, he was not aware of Winston's position as a prized Florida State recruit.
(Via USA Today)