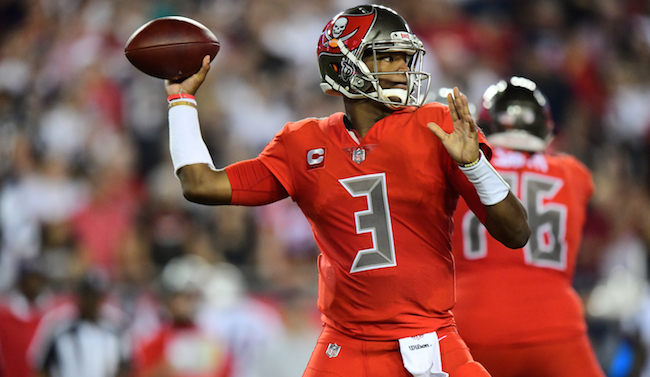 The Bucs were all but eliminated from the NFC playoff conversation on Sunday in a 30-10 loss to the New Orleans Saints that dropped Tampa Bay to 2-6 on the season.
If that weren't enough to convince people the Bucs' season would end in Week 17, the latest news regarding quarterback Jameis Winston probably will. Winston was removed from Sunday's loss due to a lingering issue with his throwing shoulder (and later instigated an altercation with the Saints on the sidelines), and on Monday, coach Dirk Koetter announced the team would be shutting Winston down for "several weeks" to let his shoulder heal.
It's the right move for Tampa Bay, as they need to protect their franchise quarterback's health for the future rather than risking further damage in a season in which there's not an awful lot of hope for immediate success. We've already seen what a severe injury to a throwing shoulder can do to a quarterback with Andrew Luck in Indianapolis, and the Bucs would be smart to monitor the situation and be as cautious as possible with Winston.
With Winston out, journeyman quarterback Ryan Fitzpatrick will take over under center, getting the chance to make a start for his seventh NFL franchise since entering the league back in 2005. Fitzpatrick will now have started for the Rams, Bengals, Bills, Titans, Texans, Jets, and Bucs.