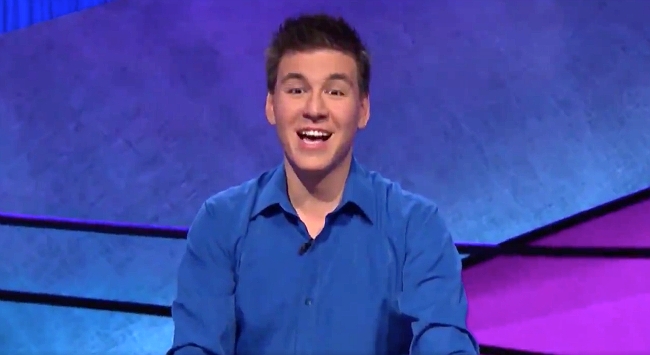 James Holzhauer is Jeopardy! champion no more. The pro sports better from Las Vegas who now holds every significant single-day total in the show's history was dethroned on Monday's episode after 32 straight wins on the trivia show.
Holzhauer's historic run on Jeopardy! brought huge ratings and huge payouts because of his aggressive betting style and enormous mind for trivia. For fans of the show who long proposed playing a hyper-aggressive style, he was a dream contestant. Holzhauer's gambling background and quick work on the signaling device simply blew some players away, and many wonder if Jeopardy! will ever be the same after his run inevitably concluded.
And on Monday, with Holzhauer within a modest payout of Ken Jennings all-time regular season earnings record, that run came to an end. Holzhauer had some fun before it aired in most markets on Monday, teasing that "timing is everything" in regard to a story about how he could be on Jeopardy! for a long time. He also joked about the Drake Curse on Monday afternoon as spoilers circulated online that Holzhauer had been dethroned as Jeopardy! champion.
But video of Final Jeopardy did, indeed, show that Holzhauer finished second to a challenger, Emma, a user experience librarian from Holzhauer's home state of Illinois.

So how could this happen? Well, in short the contestants Holzhauer played against were extremely good. Emma, for example, revealed she wrote a master's thesis about Jeopardy! and "that features relating to a trivia question's length, the inclusion of audiovisual media, and its constituent noun and verb phrases have a significant impact on the clue's difficulty."
In other words, Holzhauer isn't the only one who has studied hard to be on the show and can play out his strategy. And that's basically how he went down — Emma got both Daily Doubles in the Double Jeopardy round, including a true daily double that impressed Holzhauer.
"Emma dominated her warmup games that day, and I knew she would make an extremely tough challenger," Holzhauer said according to a release. "I was still incredibly impressed by her courage on that 'True Daily Double.' I'm proud that it took a top-level player at her absolute best to eliminate me."
Emma had the lead heading into Final Jeopardy — $23,600 to Holzhauer's $20,400. James had never trailed heading into Final Jeopardy, and it put him in a vulnerable position: he hadn't done enough in the first two rounds to make it only matter if he knew the correct answer.
The Final Jeopardy category was "Shakespeare's Time" and Holzhauer, playing behind, had a modest wager to put him above the third place bet in case Emma wagered big and lost. She bet big — a Holzhauer-esque $20,201 of her available $20,400 — but didn't get it wrong. All three contestants put down "Marlowe," including Emma who won with $46,801 and became the new Jeopardy! champion.
"I never really believed I could win 75 shows," said Holzhauer, who finished just $58,484 shy of Jennings' record. "But I definitely thought I had a great shot at Ken's cash winnings record."
And so Jeopardy! James is finally slain. His daughter gets the party she wants and Emma will take up the burden of the Jeopardy! crown. Long live the queen.