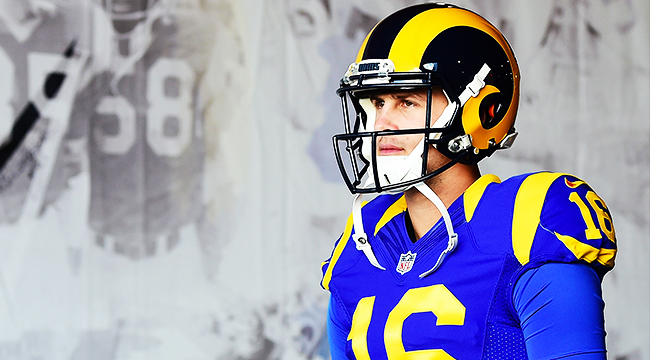 Jared Goff went 0-7 as a starter his rookie season after taking over as starting quarterback midway through the 2016 campaign. But after big changes in Los Angeles, Goff and the Rams took off in 2017 making the playoffs for the first time in his career and the first time since the Rams moved to the left coast.
Much of that success is credited to Rams coach Sean McVey, but Goff greatly improved under center for the Rams in his sophomore season, clicking with his wideouts and growing into the quarterback many hoped the first overall pick in 2016 could be.
Goff talked with Uproxx as he headed for downtown Minneapolis to take part in Super Bowl 52 festivities. While the goal is to reach the Super Bowl as a player, he said he's enjoying the experience. He also talked about his first Pro Bowl appearance, wings, and how much he learned in his second season as a pro.

Uproxx: You had a great second season after what was a tough rookie year for you as a starter. What did you learn this year that you maybe were surprised by?
Jared Goff: I learned how confident you need to be and all the stuff you have to be to be a starter in this league. And that you have to continue to learn, continue to be the best player I can be for my team.
You took an interesting path to the starting job out of college by not being the starter right away and then stepping into the role in the middle of the season. Do you have any advice for someone coming out of the draft this year that might find themselves on a similar path?
Yeah, it's a marathon, it's not a sprint. You've got a long career and a lot of time to do what you want to do. You just have to keep working to get better.
I wrote about the Amazon series All Or Nothing, which was about the 2016 Rams during your rookie year. Did you watch the show?
No.
I was curious to ask if it accurately portrayed what happened there with Jeff Fisher's firing and how the players reacted. Do you think fans sometimes don't understand exactly what happens in situations like that?
Yeah, it's all very under wraps a little bit. They don't completely show everything but a lot of that was accurate. It was a good show. It was two years ago, though, so I don't know in 2018 how many more times I'll have to talk about 2016.
What was your first Pro Bowl like? Did you get a chance to have any fun meetings with other players from other teams?
It was good. It was fun. It was a really good experience out there. I got to meet a lot of really good players and really good people. It was a good learning experience for me.

It was announced earlier this week that the Rams will do another International game. You've been to London but are you looking forward to playing in Mexico?
Yeah, it's awesome. It's awesome getting to see different cultures and getting the chance to show the world the NFL. We're lucky enough to stay a little bit closer to home this year and go down to Mexico. It's a little bit of a shorter flight for us, which will be nice. It will be good to get to see the country.
Do you have any favorite Super Bowl memories? Any games from growing up that really stand out to you?
I remember the Steelers/Cardinals one really well. I remember watching that: Big Ben and the Santonio Holmes play. David Tyree's catch against the 18-0 Patriots, too. That was a good one.
Do you usually watch games out with other people or stay home and have parties for big games?
If I'm not at the Super Bowl I'm at Buffalo Wild Wings. Where else is there to be?
Are you a big wing guy?
Yeah. I love them.
I read you're living with Chicago Bears quarterback Mitch Trubisky this summer. How did you two get in touch?
We have the same agent. I'll be with him for about a month or so coming up here.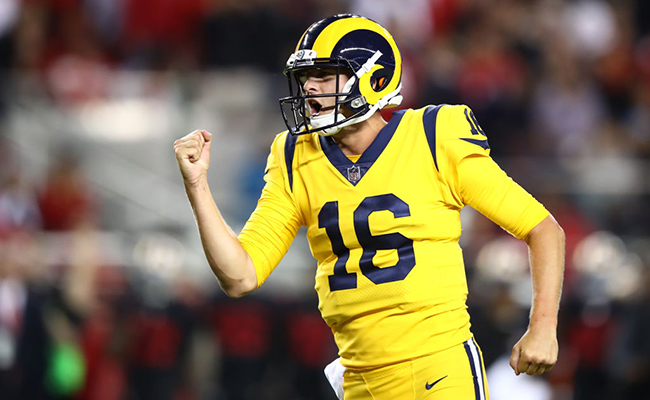 Do you like training with other quarterbacks? Is that something to learn from or are you kind of set in your own process at this point?
Yeah, we'll be training together but also separately. Just in Newport at the same time. It'll be cool to spend some time with him for sure.
Anything different you're going to do this offseason from the prior ones?
Yeah, I'm still kind of learning. Trying to figure out my process and that's definitely part of it this offseason. Trying to figure out what to do with my schedule and all that.
Your coach Sean McVay was named coach of the year this week. What's it been like having him come in and see the success the Rams had this year?
His ability to communicate is incredible. Just how good he is at conveying his point and teaching. How smart he is and how awesome he is with us. He's a great leader.