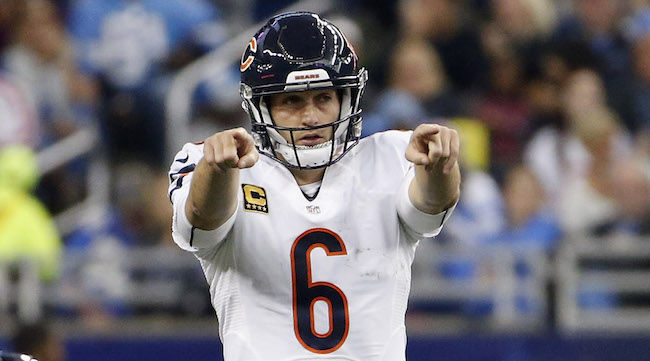 The Jay Cutler era for the Chicago Bears has come to an end after eight seasons and one playoff appearance. On Thursday, the Bears reportedly granted release to their long-time starting quarterback as they prepare to sign Mike Glennon, of Buccaneers fame (that might not be the right word), to a three-year deal.
Cutler, who suffered a season-ending shoulder injury, is now one of the top veteran quarterbacks available on the free agent market (along with maybe Tony Romo, if the Cowboys can't trade him). There are plenty of teams in need of quarterback upgrades this offseason, and the soon to be 34-year-old might entice teams, so long as he proves that his arm strength is back.

Here are our best guesses for where Cutler may end up, knowing very well that there are lots of dominoes still yet to fall in free agency that could change his options:
New York Jets — It's the offseason, which means the Jets are in need of a quarterback. The last stable quarterback situation the Jets had was Mark Sanchez. Maybe? If not him then Chad Pennington, who last played there in 2007. So, yeah, things haven't been great over the last decade under center for New York's green team. The Jets certainly want an upgrade at quarterback after the disaster that was the Ryan Fitzpatrick-Bryce Petty-Geno Smith three-headed monster of 2016, and guess what, they have interest!
Adam Schefter also reports that the Jets are the team with the most real interest in Cutler right now (which has to be a bit of a bummer if you're Cutler).
The Jets are the clear favorites to land Cutler, but if they don't scoop him up quickly, then there may still be some other suitors as other quarterbacks come off the market.

Houston Texans — Let's say the Texans can't land Romo, but still think they're a quality, veteran starting quarterback away from contending. If you look at the market, Cutler might be the best option, depending on what you believe he can still be. At 34, Cutler may be willing to take a short-term deal that lets Houston have future cap flexibility, while still trying to win now with the roster as constructed. For Cutler, it would be a chance to win and there wouldn't be a ton of competition for the job behind him in the immediate term.
Denver Broncos — I know it's hard to imagine Cutler returning to his old stomping grounds in Denver and it's almost assuredly not going to happen, but the Broncos are in about the same spot as Houston. They have a roster built like contender with the exception of the quarterback position. It's why both are considered the two candidates for Tony Romo, and if Denver fails to land Romo and still doesn't believe Trevor Siemian or Paxton Lynch can be the answer right now, maybe they would at least put a feeler out about turning the keys back over to old Smokin' Jay.
Cleveland Browns — The Browns have lots of money to spend and a pretty poor quarterback situation with the only real options on the roster right now being Robert Griffin III and Cody Kessler. It would be extremely Browns to waste cap space on a veteran quarterback when they have no shot at winning right now, rather than smartly building a foundation to eventually bring in a young quarterback near the top of the draft. I'd say it's far more likely that the Browns take a quarterback at No. 12 in April's draft than throw cash at Cutler, but you can never count out the Browns when it comes to making a poor decision.