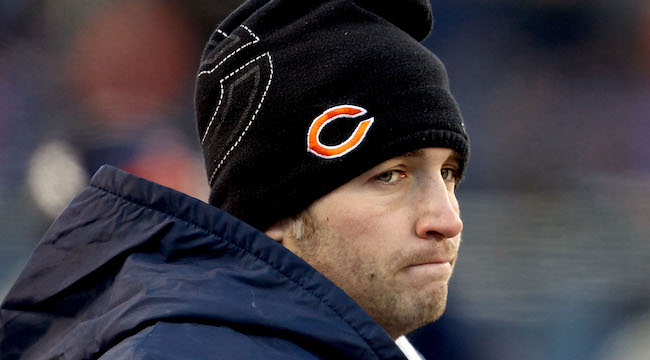 Jay Cutler has never been the picture of popularity in NFL circles. The Chicago Bears quarterback has fantastic talent at his position and a long profile of reasonable individual success, but Cutler's disposition has come under fire and, frankly, that has sometimes overshadowed his on-field performance, for better or worse. On Thursday, though, Cutler made a comment that, if anything, will only make him even less popular.
Jeff Dickerson of ESPN brings word from the now 33-year-old quarterback, and Cutler stated in plain terms that he supports Donald Trump in the aftermath of his election as the President of the United States.
"I'm happy with the [election] results. I've supported Trump for a while. I'm not going to dive into it. I know it's a sensitive issue. I like where it's going."
While Cutler is certainly not the only person in professional sports that was pleased with the election results (hello, Spencer Hawes), this opinion will, at best, alienate half of the country given how the popular vote played out earlier this week. The majority of the sports world – at least those who have publicly commented – have come out against Trump, highlighted by the likes of legendary NBA star Kareem Abdul-Jabbar, current NBA head coaches Stan Van Gundy and Steve Kerr, LeBron James (who campaigned for Trump's opponent) and television personality Jalen Rose. Even without that caveat, Cutler's sometimes divisive personality does not allow him to "make nice" with everyone, and comments like this will not help him to curry favor with a portion of the Bears' fan base.
On one hand, it should be noted that other members of the sports world have been commended for simply sharing their opinions publicly, and Cutler could enjoy that benefit of the doubt as well. Still, public reaction to dialogue often varies wildly depending on who the comments come from, and this appears to be a prominent example of that trend.