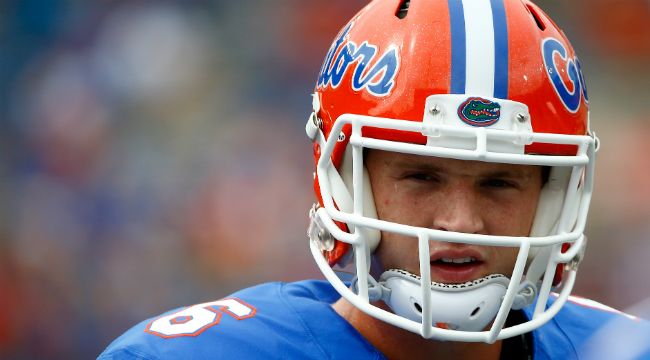 For much of Will Muschamp's ill-fated tenure as head coach of the University of Florida, Jeff Driskel was his starting quarterback. As Muschamp built elaborate K'Nex roller coasters on defense, he failed to stack two Duplos on offense, and he was run out of town for it. Driskel was the poor carpenter who had to take those two Duplos and pretend they were a house that he was supposed to maintain. He didn't do so great at it, averaging only 6.2 yards per pass attempt and throwing for barely more touchdowns than interceptions.
Driskel was benched last season, and put in for a graduate transfer when it was over. That's how he's been able to rise again as the starting quarterback for Skip Holtz's Louisiana Tech team, and Holtz thinks that Gator fans were very mean to Driskel:
"I think down at Florida, it got very toxic for him. He became the scapegoat," Holtz said. "He became the guy that was tied to losing at Florida as a fan base that does not take very well to losing. It really became a negative situation, which is unfortunate because he's such a great Christian young man with such great values who is a leader."
Leaving aside that Driskel could be all those great things and still not very good at throwing footballs, it's hard to say whether Driskel was unfairly made the scapegoat. Plenty of Florida fans had (and still have) not-very-nice things to say about him, and placed blame on his arm just like they did on Muschamp's head. Driskel was held in very high esteem as a recruit, and everyone agrees that offenses under Muschamp were ugly, so he doesn't deserve all the crap he's heard, and he certainly could benefit from a change of scenery. That being said, he was really, REALLY bad at times.
Driskel's off to a hot start at La Tech, as he threw for more than 250 yards and four touchdowns in his first game. He'll no longer have to face eight SEC teams every year, so he'll never fully redeem himself in the eyes of college football fans, but he still has a chance to prove he has elite talent.
(Via The News Star)