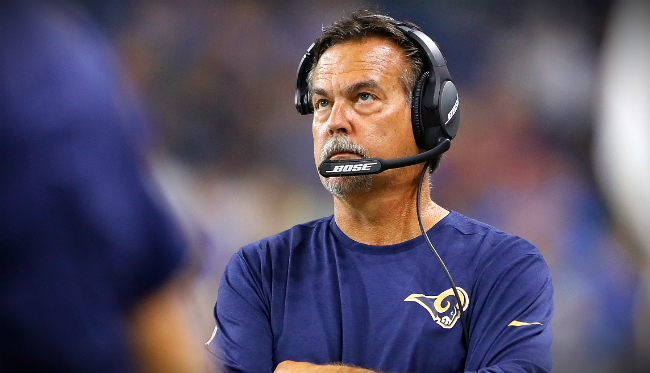 Jeff Fisher is teflon. The Los Angeles Rams' coach has somehow done a great job convincing the franchise to accept mediocrity because he made the Super Bowl once in January of 2000. He was rewarded with a two-year contract extension over the weekend even though the team has gone 7-8-1, 7-9, 6-10, and 7-9 in his first four seasons at the helm in St. Louis/Los Angeles.
This year isn't expected to be much better, as the team is currently 4-7 and is beyond awful on the offensive side of the ball. The team is last in total offense, points per game, and third down percentage. It is bad, but for some reason, Fisher skates by, partly because he is good at blaming his shortcomings on others. For example, when asked about the team's struggles over the last five years, he said this.
We'll forget how not realizing that your general manager got a contract extension at the same time that you got a contract extension is absurd and instead focus in on the last thing he says. Fisher blames the team's offensive issues on two things: the personnel on his team, and the "unfortunate things" involving wide receiver Stedman Bailey and running back Tre Mason.
Bailey was selected in the third round of the 2013 Draft. Mason was selected in the same round one year later. Both dudes has the potential to be nice players, but neither were expected to be franchise-changing players. And yet Fisher singled the two of them out as reasons why the team's offense is last place in the NFL in things like point scoring and yard getting.
There's also the circumstances surrounding why neither player is on the team in an active capacity. Mason went through a number of off the field issues during this past offseason, and his mother said that head trauma from football has led to a "10-year-old's mindset." Bailey, meanwhile, was a student assistant coach at West Virginia during its 2016 season because he was shot in the head twice last year.
This is, again, an example of Fisher blaming his shortcomings and general aloofness as a coach (he didn't know his GM signed a contract extension the same day he did!) on something other than himself. This time, it was two players who suffered head injuries in different ways keeping the offense from reaching its full potential. While it's hard to see a receiver with 59 receptions in two and a half years or a running back who backed up Todd Gurley breaking the offense open, to Fisher, this is the sort of issue that devastated the offensive side of the ball.
Is it ridiculous? Of course, but so is the fact that Fisher somehow skates by without ever taking responsibility for his own actions. Maybe Eric Dickerson is on to something.