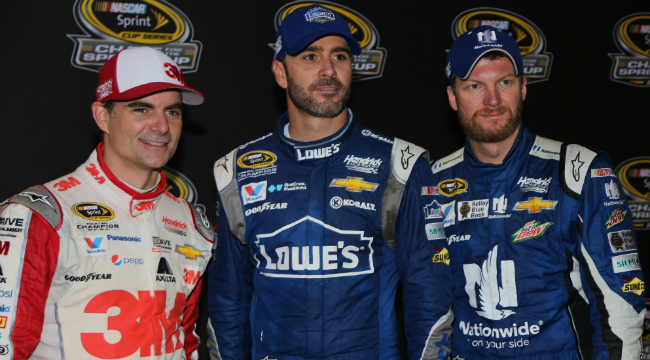 Imagine it's next April in the NBA season. The Spurs are fighting for home court advantage, and their star big man LaMarcus Aldridge goes down with an injury. So, for a special run of games, they bring back Tim Duncan, who returns to raucous cheers and holds the fort for a short term. That's kind of what's happening in NASCAR right now, because Dale Earnhardt Jr. has a concussion and can't drive for at least two races, so Hendrick Motorsports is bringing Jeff Gordon out of retirement to fill in for him in the 88 car.
Now, the difference between NASCAR and the Spurs in the above analogy is that Hendrick enters the car in the races, and they can pretty much pick whatever drivers they want. So, when one of your best drivers ever is sitting around in retirement (and doing race commentary), why not call him back in for one last job? Well, technically it's at least two last jobs: Indianapolis and Pocono, two racetracks at which Gordon holds the all-time record for wins. Kinda nice to have that in your back pocket!
Although, a word of advice to Jeff: That "one last job"? It never goes well. Stay frosty out there at the Poconos.
(Via Hendrick Motorsports)